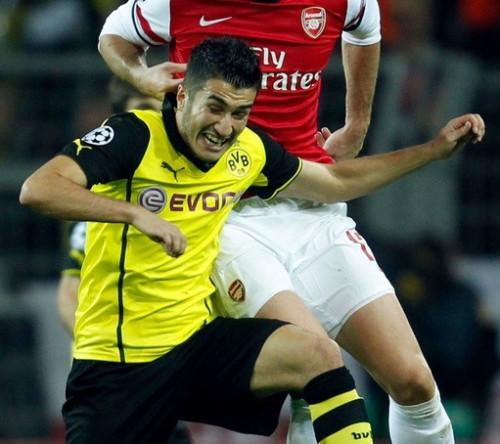 Manchester United have received a major boost in their pursuance of Borussia Dortmund midfielder Ilkay Gundugan after his father revealed that the player is open to any possibility in the summer, according to the Daily Mail.
David Moyes is likely to be entrusted with a major transfer kitty to spend in the summer and bring his team back to winning ways after failing to replicate their form following the retirement of Sir Alex Ferguson.
Gundogan has been heavily scouted by Moyes and is likely to come in for an aging Michael Carrick in the centre of the United midfield which has performed abysmally poor this season. United are currently seventh in the league following their 0-0 draw against Arsenal and 15 points behind league leaders Chelsea
Gundogan is also being scouted by Real Madrid who are looking at the player as a long term replacement for Xabi Alonso, who has signed a two year extension on his current contract.
However, United will do everything in their power to bring the player to Manchester who has missed most of this season through a back injury. The midfielder had an inflamed nerve which kept him out for six months and is recently back in action for Dortmund, with his contract expiring in 2015.
Moyes has started United's revival by prising away Juan Mata from Chelsea in January but the Spaniard has failed to revive their fortunes thus far. The former Everton manager has revealed that Mata is the first of many players to come to the club and will spend expansively in the summer to revive their title hopes next season.
However, with United on the verge of missing out on Champions League football, it will be difficult for Moyes to bring players in without the lure of Europe.
"This is the first, and there will be many more to come in time. I want to build an exciting team. Hopefully it will be the first of some new signings who will arrive more likely in the summertime. We see this as the start, we have to look to improve and I'm going to try to bring in some new players to make that happen," Moyes said after signing Mata.