Manchester United have suffered some of the best and worst moments that English and European football can offer this year, and while the club are currently pushing Manchester City for top spot in the Premier League table, it has taken a lot for Sir Alex Ferguson's army to achieve what they have in the last 12 months.
Many said that United couldn't win the title last season with the squad they had, but they were proven wrong - and perhaps partly as a result of Chelsea and Arsenal falling down, the Red Devils held their nerve throughout the business end of their campaign and lifted the trophy for a record 19<sup>th time.
The summer was typically busy early on for Ferguson, with three new faces coming into the mix at Old Trafford, and a very up and down campaign so far has left United second in the table, and in the Europa League next season.
IBTimes UK takes a look at the top ten moments for Manchester United in 2011...
1. 19 times and bragging rights over Liverpool
They beat Liverpool to the 19 title mark, and Manchester United couldn't be happier about stepping over their bitter rivals in the trophy count. Sure, the Reds have won five European Cups, but it was that magic number 19 that United fans were so desperate to get to, particularly after Liverpool fans had chanted 'come back when you've won 19' for so long at Anfield. Well, United fans returned to the northern city, and laughed as Reds fans scrambled to insist that they still have more European Cups.
2. Champions League final
What seemed such an even encounter turned out to be very one sided, with Barcelona dominating across the board and winning the match 3-1. But there were many positives to be taken out of the game which UEFA president Michel Platini called the best meeting between two teams of 2011. While Wayne Rooney got his scoring boots back on for the club, United can boast three finals in four years, and after a disappointing end to their 2012 Champions League trophy chase, the side will no doubt take comfort in getting so far this year.
3. Knocked out to... Basel?
Even though United were suffering from lacklustre form, no pundit expected this, as the Red Devils came up short to FC Basel in this season's Champions League group stages. Needing just a point to go through to the final 16, Ferguson's squad lost the match 2-1, and a last minute push wasn't enough to save them from third spot on the Group C table and relegation to the Europa League. United insist they are hoping to win the tournament believed by many in England to be more of a burden than a blessing, but Ferguson will likely use the competition to give his youngsters more game time. Either way, it was certainly not the way United fans expected to be starting the new year in Europe.
4. The emergence of City
In 2008, Abu Dhabi based billionaire owner Sheikh Mansour bin Zayed Al Nahyan took over United's fiercest cross town rivals, and a new dawn began for the club that had gone without a trophy in over 30 years. After winning the FA Cup at the end of last season, City knocked the banner off at Old Trafford keeping count of how long it had been since the club won silverware. And now, after defeating the Red Devils 6-1 in embarrassing style at United's home ground in October, the stage has been set for a title showdown that will become a big part of both sides' histories.
5. Evra/Suarez racism row
Every United fan became involved in the Patrice Evra v Luis Suarez racism row, after Evra made a formal complaint that Suarez had racially abused him when the sides met in mid-October. A decision from the FA on the subject took around two months to be made, and though Suarez was found guilty of using racial language against Evra, the row rages on as Liverpool refuse to accept the ruling and plan an appeal. The case is a landmark for English football's stance on racism, and has taken over from much of the football-related news in December.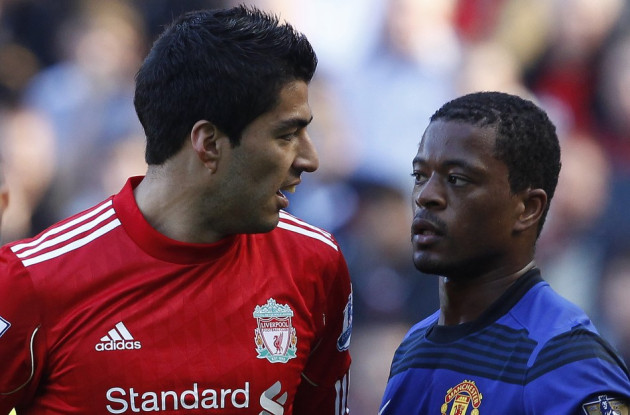 6. Summer buys - Will Sneijder? Won't Sneijder?
Ferguson concluded his summer transfer business early in the window when Ashley Young, David de Gea and Phil Jones all arrived at United for a combined fee of around £60 million. Connections to Wesley Sneijder were loud and repetitive, but the Scot insisted no deal would take place, and he stayed true to his word, even as Sneijder hinted at last minute talks on deadline day. One can guess that Ferguson will stick to his guns on not purchasing another midfielder in January - and while this may disappoint fans, who were hoping that the manager would build on the midfield in the absence of Darren Fletcher, Ferguson has defied the critics many times before with his faith in a seemingly weak squad.
7. Ferguson riles the FA again
Sir Alex Ferguson has a way of making the heads of English football mad with rage, and did so again after making some particularly damning comments towards referee Martin Atkinson as United lost 2-1 to Chelsea in March. The game was particularly important as Arsenal pushed to within four points of top spot in the Premier League table, and Ferguson commented after the match that "You want a fair referee, or a strong referee anyway - and we didn't get that." A five match ban, and £30,000 fine, saw Ferguson having to sit in the stands in the longest touchline ban handed to a manager in Premier League history.
8. Retiring greats
Paul Scholes and Gary Neville played over 850 games for Manchester United between them, and that's not including their youth years at the club. Neville featured in his last game for the club on New Year's Day against West Bromwich Albion, while Scholes played for the side for the last time in the Champions League final. And both were given the send offs they deserved, with Scholes playing against United legend Eric Cantona's New York Cosmos in a testimonial in August, and David Beckham making a return for Neville's match in the same month. For Neville, the game held particularly special significance, with the right back harbouring great memories of facing opposition Juventus in the club's 1999 Champions League 3-2 semi-final win.
9. Ferguson's 25 years
It's not often a manager stays at one club for five years, let alone 25 - but Ferguson proved almost every sports journalist in the last quarter of a century wrong by sticking it out at Old Trafford for almost as long as this very writer has been alive. It took the Scot a few years to set his side up for success, after taking over the managerial post from Aberdeen in 1986; but in 1993, he started to really show his colours, and built on an FA Cup and League Cup victory with title after title, European challenge after European challenge, and a brilliant ability to get inside the opposition's mind and unsettle anyone who stood in his way. 37 trophies later, United are the most successful club in English league history, and while many laughed at Ferguson's aspiration to catch Liverpool in the early nineties, the 69-year-old dug his heels in and achieved just that. Naming the North Stand the 'Sir Alex Ferguson Stand' as United prepared to take on Sunderland in November, a feat which the club went to great lengths to keep a surprise from the manager, was merely a token gesture compared to all he has achieved in his time at the club.
10. New generation
It's been a mixed reaction as Ferguson bloods his youngsters on the pitch this season. Pundits were singing the praises of the manager at the start of the campaign, with United boasting 18 goals in their first four matches and standing tall against the much bigger spending City. As time went on though, piling injuries made many weary that the likes of Chris Smalling, David de Gea, Phil Jones, Danny Welbeck and Federico Macheda won't be able to take the club into the long haul of challenging their rivals for the title. But as more youngsters return from injury, and with Tom Cleverley expected back within the next month after impressing on his return from a loan spell last summer, Ferguson might prove yet again that he is able to create a new generation of players while keeping the Red Devils competitive. And he'd certainly like to prove Roy Keane wrong in doing so.