The decision of Real Madrid defender Sergio Ramos to leave the club during the current transfer window is "irrevocable" amid speculation linking him with a move to Manchester United, according to Spanish newspaper Marca.
AS broke the news on Sunday 21 June when it revealed the Spain international decided to quit the Santiago Bernabeu even though he still has two years remaining on his contract.
The 29-year-old later met with Real Madrid director general Jose Angel Sanchez to inform the club of his intentions while asking them to listen to offers as Manchester United were interested in securing his services.
And AS claimed club president Florentino Perez, rather than opposing his departure, told Ramos he would be free to go should United meet his €90m (£64m, $100.9m) fee – having rejected an initial €50m offer from the Premier League side to clinch the deal.
Pedro Riesco, who works with the player's brother and agent, René, all but confirmed the news to Radio Marca, claiming Ramos playing for Real Madrid next season is unlikely.
"I think it is unlikely Sergio will be able to stay at Real Madrid," he concluded, blaming it on "voices speaking without authority, who behave like puppets, saying that Sergio Ramos does not represent the club, that he is money-grabbing".
However, some in Spain believe Ramos would change his mind sooner rather than later if Real Madrid were to offer him a pay rise, while suggesting the player is only using Manchester United to get his target salary.
The origin of the defender's desire to leave Real Madrid was Perez's reported refusal to meet his wage demands to increase his €6m a year salary to €10m in order to be in the same range as Gareth Bale.
But even though his mother recently claimed Ramos wants to stay at Real Madrid, Marca says the players has firmly decided to leave the club no matter how much Perez is prepared to pay him to stay.
Marca says his decision is "not hot-headed", as Ramos believes he needs to make a fresh start somewhere else.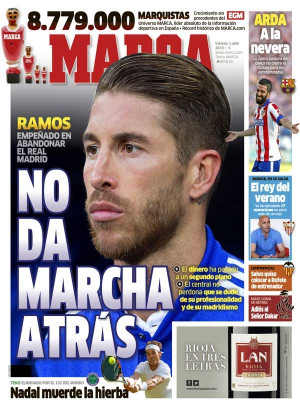 The Spanish publication claims the defender "feels that the poor relationship with Florentino Pérez is irreparable and that the smear campaign against him labelling as a mercenary has left a wound that will never fully heal if he stays on".
And Marca believes David de Gea's likely move to Real Madrid may be the key as should United accept to part ways with the goalkeeper for a reasonable price, Los Blancos may also opt to reduce the asking price for Ramos.
A recent AS poll revealed Real Madrid fans would back the sale of Ramos as 55% of its readers want the club's vice-captain to leave the Santiago Bernabeu.