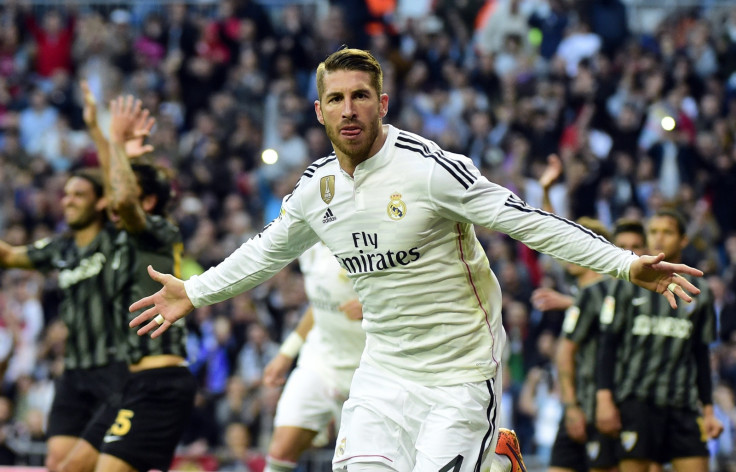 Real Madrid officials have been encouraged to sanction the sale of Sergio Ramos to Manchester United after a poll in Spanish newspaper AS revealed more than 55% of its readers want the club's vice-captain to leave the Santiago Bernabeu.
The future of the 29-year-old centre-back at the Spanish giants has been under increasing scrutiny since AS reported on Sunday 21 June that Ramos was ready to force his way out of the club after growing frustrated with unsuccessful negotiations over an improved deal.
The Spain international later met with the club's director general, Jose Angel Sanchez, to confirm his intentions while urging him to listen to offers, with the Daily Mail claiming United manager Louis van Gaal responded by launching a £35m ($54.6m) bid to make him the leader of the Old Trafford backline.
According to AS, club president Florentino Perez rejected that bid but is likely to cash-in with Ramos should United meet his €90m valuation.
The defender has refused to express his desire publicly but according to the reports, he wants to leave the club because he does not feel valued by Perez, rather than the issue being a financial one.
However, some in Spain have accused him of being a money-grabber, while claiming he is toying with Manchester United in order to get a better deal at the Bernabeu.
The Spaniard earns €6m a year after taxes but is looking for a deal that will see him receive €10m – roughly what Gareth Bale earns in the Spanish capital.
In this sense, AS recently claimed United are ready to meet his demands with a deal worth €55m over the next five years.
The poll by AS, whose readers are mostly made up of Real Madrid fans, suggests Ramos's contract saga has affected his relationship with the supporters.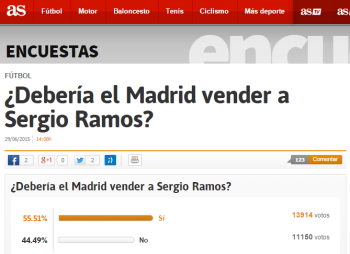 Even though the Spaniard scored the goal to secure the club's 10th Champions League a year ago, more than half of the fans wants Real Madrid to sell him. Asked whether the club should sell Ramos, 13,914 readers said yes and 11,150 said no.