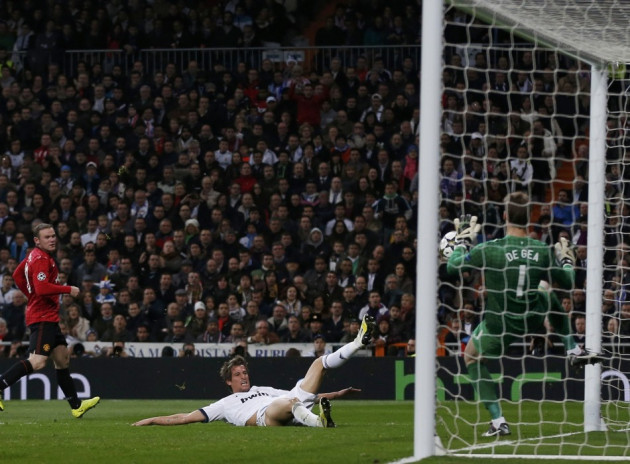 David De Gea has committed his immediate future to Manchester United and described Sir Alex Ferguson as the best coach in the world - but says he would like to return to his home city one day.
Speaking to the Spanish media ahead of his country's match with Finland, De Gea talked glowingly about the inspirational example set by Ferguson - even after the defeat by Real Madrid earlier this month.
"He has a lot of character and on that day [the Madrid match] he was very angry. But also, in the background, he was proud of his team," De Gea told Spanish newspaper Marca.
"He is more than a coach. He manages everything in the team. He is a father for all those who arrive at the club. For this reason he is the best."
Drawing comparisons between Ferguson and his national team coach Vicente Del Bosque, De Gea continued: "Both of them inspire a lot of respect and know the best way to manage both the dressing-room and the players."
However the player insisted that, eventually, he wants to return to Madrid, where he spent the first 20 years of his life.
"I know what has been said and written but I am very happy in Manchester, and it will be my club for many years. I have a contract.
"But Madrid is my city, and some day I would like to return, [even though] at the moment I hope to be at Manchester for a long time and win many trophies."
Spain play France in a vital World Cup qualifier next week, and De Gea said he has been furiously exchanging texts with Patrice Evra about the outcome.
"We have already been sending each other messages. He tells me that they are going to win, and win easily. I'm not sure what he is getting his hopes up for!"
'He has a brilliant future'
Meanwhile, Spanish legend Emilio Butragueno says he believes that De Gea will become one of the world's best goal keepers, and thrive with both club and country.
De Gea made the move to Old Trafford in the summer of 2011, becoming one of the most expensive goalkeepers of all time.
The then-20 year old struggled to be consistent in his first season with the club, and tough scrutiny was placed on the Spaniard as United looked to win the title back from bitter rivals Manchester City in his second season.
Some speculation suggested that Sir Alex Ferguson was close to running out of patience with De Gea and searching for a replacement, but the star refuted such claims, and the manager's faith in the 22-year-old looks to have paid off as he continues to improve.
And Butragueno, who himself has 65 caps for Spain, insists that it isn't only United who will enjoy the rewards of De Gea's success.
"There are fantastic Spanish goalkeepers now," he told the United website. "Casillas, Valdes and Reina.
"De Gea has a brilliant future of course but the competition at the moment is fierce for that position. He is very young for a goalkeeper but his career has been fantastic so far."
Some questioned whether De Gea made the right move going to such a big club at a young age. But Butrageuno believes that the move will be the right one, saying: "Well, it's been a challenge but I think he was prepared and I think it is going to be very positive for his career."