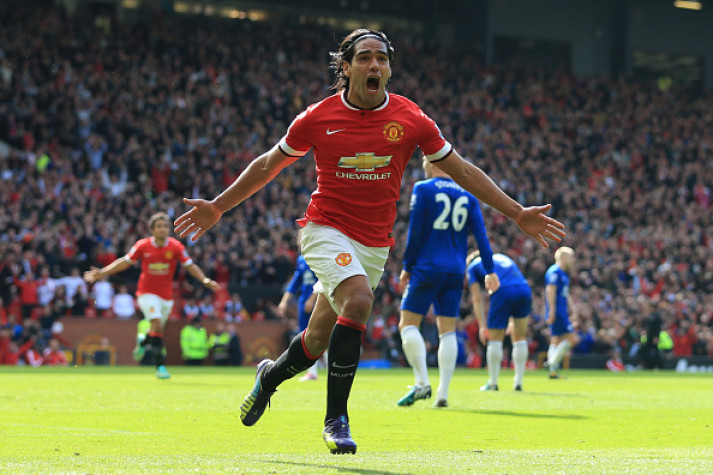 Manchester United playmaker Juan Mata has praised Radamel Falcao after the Colombian star scored his second goal during the 1-1 draw at Aston Villa on Saturday 20 December and he hopes the striker keeps up the momentum during the Christmas busy period.
Falcao has had a slow start to life in the Premier League following his sensational loan move on deadline day in the summer.
The Colombia international was expected to become a crucial asset alongside Robin van Persie in manager Louis van Gaal line-up since his first day at the club. But after suffering an injury earlier in the season, Falcao has only started four games, scoring two goals in the process.
The striker recently even admitted should the situation not change, he may have to consider turning down the chance of signing a permanent deal at Old Trafford, for around £44m.
But on Saturday, Falcao took advantage of his fourth starting appearance in the Premier League to secure a point at Villa Park, getting the equaliser with a fantastic header in the second half.
Mata was left frustrated because his side could not extend their winning run of six games, even though Villa played the last 25 minutes with 10 men – due to Gabriel Agbonlahor´s red card – but he was happy Falcao scored.
"Against Aston Villa we couldn't get our seventh win in a row. It was a complicated game. They scored first, a great goal from Benteke, and didn't let much space for us to come back," Mata wrote in his blog.
"We were able to tie the game thanks to Radamel's header – I'm very happy for him, I think he deserved it because he works hard every day – and at the end of the game, despite Aston Villa were playing with ten men, we couldn't score the second goal.
"Villa Park is a tough stadium for every team, although United must try to win always, in every place. We should have taken more advantage of those minutes after the red card, but they defended very well and even tried the counter-attack with some danger."
United host Newcastle United on Friday 26 December in their next match before a crucial visit to Tottenham Hotspur two days later.
Mata said: "As you know there is no break in the Premier League – this is the busiest month of the season, actually – so it's a very important period of the year when you can win or lose a lot of points in just a few days. In fact, this week we play on Friday and Sunday.
"Our goal is to finish the year in the best possible way: with two more victories."