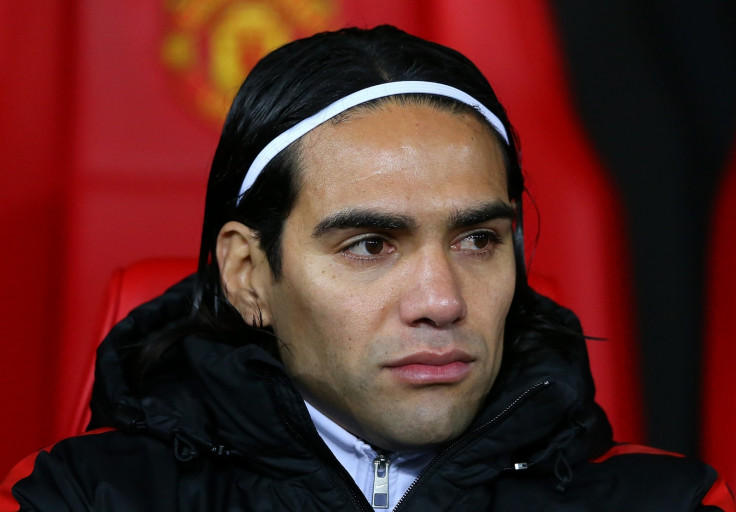 Radamel Falcao's task of convincing Manchester United manager Louis van Gaal to part with £43m to sign him on a permanent basis in the summer transfer window swelled further after he was overlooked for the Premier League defeat to Southampton.
James Wilson, 19, was preferred to the on-loan Monaco forward in United's matchday squad against Saints but the England youth international failed to feature in the 1-0 defeat at Old Trafford.
With the returning Luke Shaw and Angel Di Maria short of match fitness, Van Gaal was forced to substitute both players during the second half, while injury to Robin van Persie meant United's three changes were used up rapidly.
Falcao has only scored three goals this season for United and the difficulty he faces in attempting to win a £43m move to Old Trafford during the summer was demonstrated in his omission on Sunday 11 January.
When asked about the move, Van Gaal responded: "You have to compare players before the match and after the match you can say you could have won if a player had participated but you shall never know.
"I have to see and I have to compare players in my selection and that is what I am doing when we train and then I have to look at the composition of my selection and what I can do during the match.
"I wanted to play with players that did not have match rhythm, so I have to change for example Shaw and Di Maria; I knew that in advance. Normally, I would have changed Di Maria for Wilson because I need speed.
"Normally I have to change Daley Blind because he is six or seven weeks out. I knew in advance I had to change injured players, when you see the composition of my bench I don't have any position for a second striker.
"You see how a player reacts in the week but also the needs of your game plan. This is this moment, next week is another moment. Shall I select another way? It's like that."