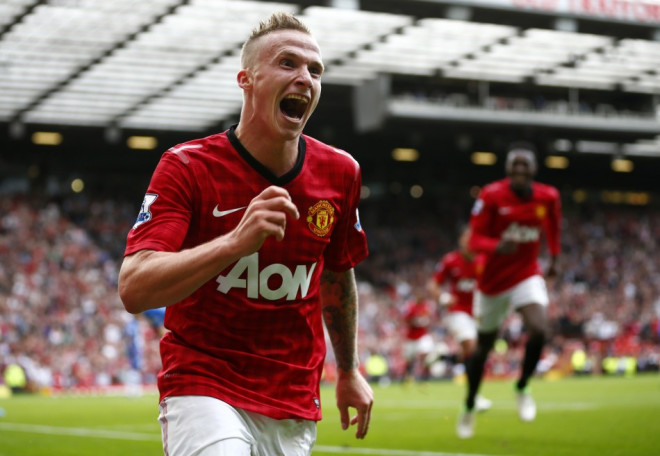 Manchester United left-back Alex Buttner believes that Tuesday's match with Bayern Munich can be a turning point in his career at Old Trafford, should he manage to stop Arjen Robben.
Buttner has started just eight games in all competitions for United this season, but with Patrice Evra suspended he is expected to play against the German giants in the first leg of the quarter-final.
Asked in an interview with Manchester United's official website about the challenge posed by his compatriot Robben, Buttner said: "It would be good for my career if I could do well against him.
"I have never played against Arjen before but I know what he can do and I am ready for him. I know him a little. It's not under discussion how good he is! We all know that. I think he's very good one against one, especially when he comes inside."
"I have to focus and be confident in my own quality. I know I can get the better of him. It's going to be a tough day but this kind of big game is why you play football. It's what it's all about."
The 25-year-old defender joined United from Vitesse Arnhem in 2012 but has since failed to impose himself on the United first team.
Some reports suggest Moyes will offload Buttner in the summer, but the game against Bayern could change the United boss's mind.
"I think everybody wants to play in a big game like this," he said. "I'm always ready. I train hard every day and even do extra training, so I'm fit and ready when I have to play. I might do some extra sprints or some extra work in the gym after training. You need to make sure you're ready if you're asked to play.
"It's going to be a tough game against Bayern but we have to be confident and I'll do everything I can to stop Arjen Robben and help the team get a win at home. I hope we can beat them.
"For me, this will be one of the biggest games I've ever played. I'm looking forward to playing against Bayern Munich. I think everybody dreams to play against them."
After beating Aston Villa 4-1 in their last Premier League game, Buttner claims United are confident of getting a good result against the Germans.
"It was great for our confidence that we beat them [Aston Villa]. If we had lost the confidence would have been low but now we have a good feeling.
"I have played two games now and I thought I played well against West Ham and Villa, putting in some good challenges. It has been vital for me to get the two matches because it would have been difficult not to play and then to have to face a big game like Bayern.
"I hope I can build on this, not just Bayern but after that as well. It is a big game on Tuesday but it is a chance for me to show what I can do."