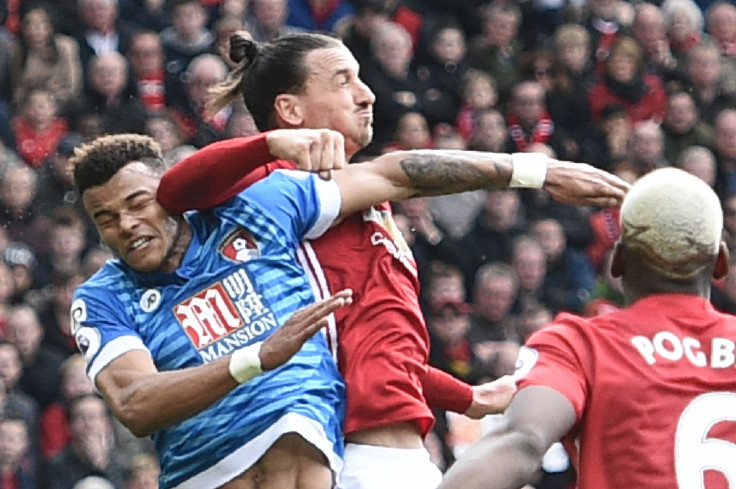 The Football Association have confirmed Manchester United striker Zlatan Ibrahimovic is to serve a three-match ban after accepting a charge of violent conduct following the incident with Bournemouth's Tyrone Mings on Saturday (4 March).
Ibrahimovic appeared to plant an elbow on Bournemouth defender Tyrone Mings in the 44th minute of Saturday's 1-1 draw at Old Trafford. It followed a separate incident where Mings appeared to land his studs on the Swede's head while running towards his own goal.
The incident was not seen by match officials during the game but retrospective action has now been taken.
Ibrahimovic will miss United's FA Cup quarter-final clash against Chelsea at Stamford Bridge on Monday (13 March) followed by Premier League games against Middlesbrough (away) and West Brom (home).
He remains eligible for United's Europa League clash away in Rostov on Thursday.
Mings was also charged after the first incident on Saturday, with the FA confirming on Monday the Cherries defender could face more than a standard three-match ban for violent conduct if the charge against him is upheld.
Speaking after the game, Ibrahimovic denied any intent and claimed that Mings had simply jumped into his elbow.
"With the elbow situation. I jump, I protect myself, I jump very high, he jumps into me. I think he jumps backwards and I jump straight up and unfortunately he jumps into my elbow," he told MUTV. "Hopefully he's not injured or something and the situation happens. I go for the ball and unluckily he jumped into my elbow. Nothing on purpose, nothing to do about now and hopefully he's not injured."
Mings denied suggestions he had deliberately stamped on his opponent, telling Sky Sports after the match: "I would never do that. That's not in my game. Hard and fair is how I like to tackle but off the ball stuff like that isn't in my game."
Bournemouth have decided to appeal the charge handed down to their defender, according to Sky Sports.