Zlatan Ibrahimovic could miss Manchester United's FA Cup quarter-final trip to Chelsea on 13 March after being charged with violent conduct by The Football Association (FA). Bournemouth defender Tyrone Mings has also been charged in the aftermath of two highly controversial incidents that took place in quick succession during an eventful 1-1 Premier League draw at Old Trafford on Saturday 4 March.
Defender Mings appeared to stand on Ibrahimovic's head while running back towards his own goal during the latter stages of the first half and was subsequently caught flush by the Swedish's striker elbow at a corner. The latter incident sparked a melee that, after initial confusion, resulted in Cherries captain Andrew Surman being shown a second yellow card for shoving Ibrahimovic.
Neither Mings nor Ibrahimovic, the latter of whom appeared to throw his rival to the ground during an earlier clash, received any punishment and a report, submitted by referee Kevin Friend, has established that the officials did not spot either flashpoint, allowing the governing body to intervene.
"Zlatan Ibrahimovic and Tyrone Mings have both been charged with alleged violent conduct following the Manchester United versus AFC Bournemouth game on Saturday [4 March 2017," the FA confirmed on Monday. "The players were involved in two separate incidents in or around the 44th minute which were not seen by the match officials at the time but caught on video."
Both players have until 18.00 GMT on Tuesday to respond. The FA also confirmed that Mings could face more than a standard three-match ban for violent conduct if the charge against him is upheld. Bournemouth, who are 14th in the table, host West Ham United next before matches against Swansea City, Southampton, Liverpool, Chelsea and Tottenham Hotspur.
"Furthermore, The FA has submitted a claim that the standard punishment that would otherwise apply for the misconduct committed by the Bournemouth defender is 'clearly insufficient'," they added.
Speaking after the game, Ibrahimovic denied any intent and claimed that Mings had simply jumped into his elbow. If found guilty, the 35-year-old would miss that last-eight meeting with Antonio Conte's Chelsea at Stamford Bridge in addition to top-flight games against Middlesbrough and West Bromwich Albion.
"With the elbow situation. I jump, I protect myself, I jump very high, he jumps into me. I think he jumps backwards and I jump straight up and unfortunately he jumps into my elbow," he told MUTV. "Hopefully he's not injured or something and the situation happens. I go for the ball and unluckily he jumped into my elbow. Nothing on purpose, nothing to do about now and hopefully he's not injured."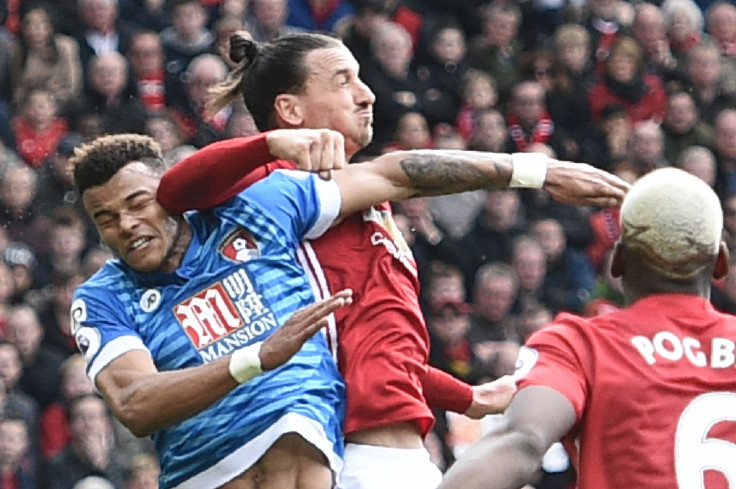 Mings also denied deliberately stamping on his opponent's head, telling Sky Sports: "I would never do that. That's not in my game. Hard and fair is how I like to tackle but off the ball stuff like that isn't in my game.
"He (Ibrahimovic) is who he is: he's a good player, he's a physical player. I knew what sort of battle I was going to be in for coming here. And that's what we had all day, it was a battle. There was maybe an elbow when the ball came in after, I didn't see it, I felt it. But what happened after that with Surman getting sent off, I didn't see it."