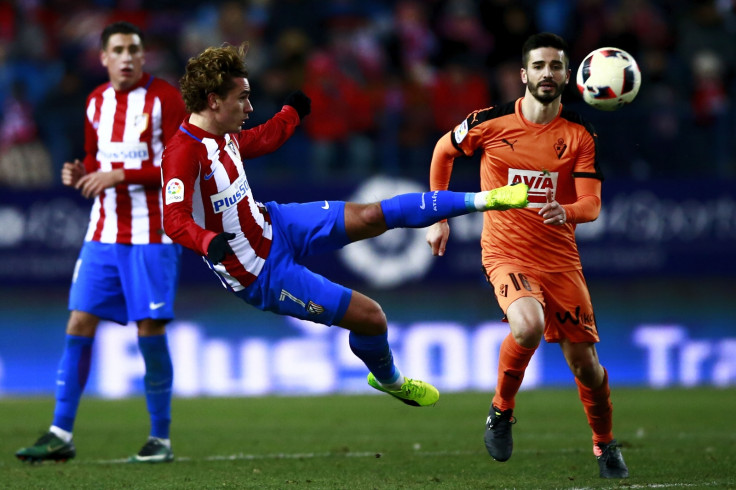 Former Liverpool forward Iago Aspas believes that Antoine Griezmann could be tempted to make a future move to the Premier League amid reports linking the Frenchman with the likes of Arsenal, Chelsea and especially Manchester United.
Griezmann, 25, committed his long-term future to Atletico Madrid last summer until 2021, setting his release clause at €100m (£85.6m, $105.2m).
However, the links about his potential move to Manchester United have continued amid reports claiming that Jose Mourinho wants to make the Frenchman his new marquee signing ahead of the 2017-2018 campaign.
Griezmann added fuel to the saga earlier in the season after revealing that he would like to play one day alongside his compatriot Paul Pogba.
Yet, Yahoo reported that such a possibility was closer than ever as Griezmann had agreed personal terms to join United at the end of the campaign.
The Atletico Madrid star himself appeared to hit back at those claims last month during an interview with RMC, revealing his doubts over a move to the Premier League because of the weather and lifestyle in England.
"With Real Sociedad, I felt that I needed to leave. For the moment, I do not know where that desire came from," Griezmann said. "Who knows how the season will finish. If it finishes badly, maybe I will ask myself the question. For the moment, it is not relevant. Aside from that, I am asking myself where I could go. And England, I have a lot of doubts about my private life. Everything like rain, bad weather... I need to feel happy outside."
However, former Liverpool forward Aspas believes that Griezmann find hard to say no to a move to the Premier League if a giant likes Manchester United really make him an offer.
"This depends on every player and the team because if we are talking about great teams like Manchester United, Manchester City, Liverpool or Arsenal, it's difficult to say no when you are at a medium-sized club," Aspas said after he already made a similar move when he joined Liverpool from Celta Vigo in the summer of 2013. "But Griezmann plays for a great one with Atletico and sometimes it's not easy to make a decision."