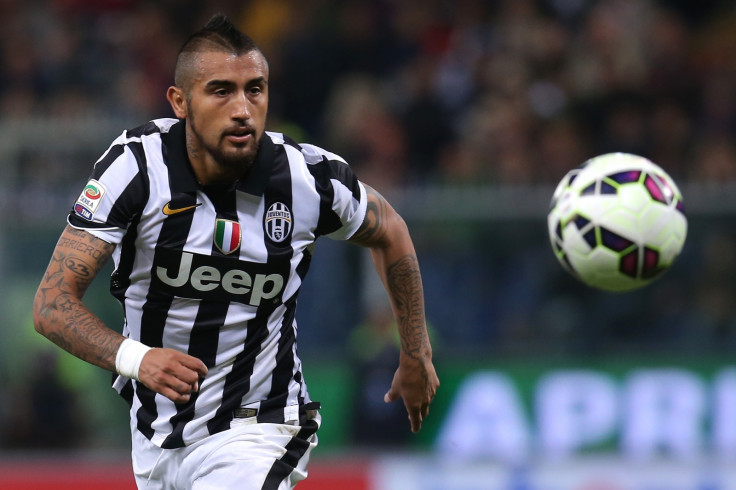 Juventus midfielder Arturo Vidal has dismissed talk of a January move to Manchester United but is keen to rejoin boyhood club Colo-Colo before the end of his career.
Vidal, 27, was understood to be one of United manager Louis van Gaal's priority transfer targets during the summer transfer window but concerns over his long-term fitness dissuaded the Premier League side from pushing through the move.
The Chile international is still not back to his imperious best after undergoing knee surgery in May but insists he is ignoring reports suggesting United could return for him in the January transfer window.
But on the subject of his future, Vidal explained to Chilean radio station Radio Cooperativa he hopes to one day return to his homeland to his first club Colo-Colo.
"I've known Colo-Colo since I've known football," Vidal said, ESPN Chile report. "My dream is to finish in Colo-Colo, with my people, with whom I helped when I left. I hope someday to wear that shirt again."
Vidal underwent surgery on his right knee to resolve a meniscus problem in early May, just short of a month before Chile's World Cup campaign began in Brazil.
The powerful midfielder's form has suffered this season as a result of his swift return to action in the summer but is optimistic over his long-term fitness. "The knee caused – and is causing – me problems. But I am trying to get into top shape."
Those persistent concerns mean United are unlikely to approach Juventus again in January after reportedly agreeing a fee of £47.5m for his services in the summer.
However, Vidal insists he will not be listening to speculation as he concentrates on winning a fourth consecutive Scudetto with Juventus.
"I feel content and happy here," he added. "This is my fourth year here and I feel right at home. Things have gone really well and we are returning to play at the maximum level.
"I am very happy with our results. There are always transfer rumours but I am calm. When a transfer window is about to open, there are always reports but I never think about that. I have an agent that takes care of that."