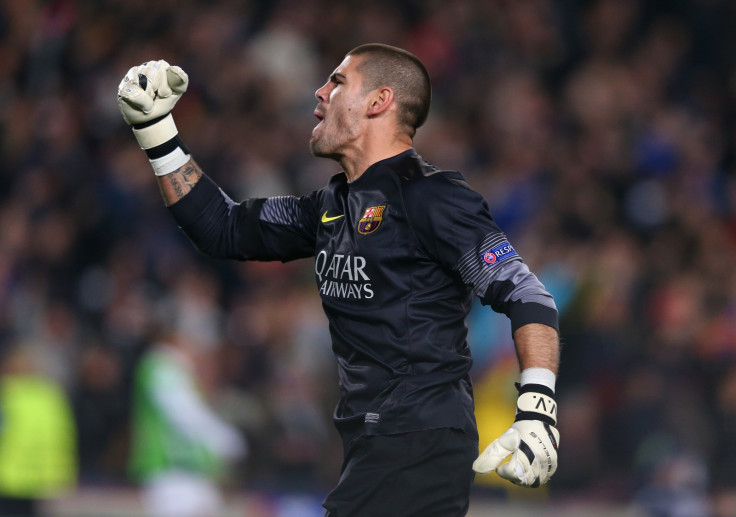 Victor Valdes' agent Gines Carvajal has rubbished recent reports claiming the goalkeeper had returned to Barcelona after Manchester United rejected the possibility to secure his services on permanent basis.
After ending his contract at the Camp Nou in June, the Spaniard moved to Manchester in October. United manager Louis van Gaal gave Valdes the chance to complete his rehabilitation at their Carrington training ground after the goalkeeper sustained an anterior cruciate ligament injury in March.
Free agent Valdes has since been heavily linked with a permanent move to Old Trafford and after handing him a debut at Barcelona during his tenure at the Camp Nou, Van Gaal hinted he could sign the keeper once he completes his recovery.
"United always has their eyes open," he said.
"Every human being is special because they all have identities. It's a principle of my philosophy that you have to respect the individual human being. [Valdes is] special because I've worked with him and we've retained our relationship, which is not always the case."
But Catalunya Radio claimed on Friday 28 November that Valdes had returned to Spain as he will not join the Premier League giants.
Carvajal has now clarified the situation, claiming Valdes just went to Barcelona to spend the weekend with his family but he is back in Manchester.
"He is not in Spain. He is in Manchester. It was a stupid thing [telling he had returned to Barcelona] because he just go there to spend the weekend with his family," Valdes' agent said, according to AS.
Meanwhile, the agent confirmed the Barcelona legend is close to a return to action, meaning he will be soon make a decision about his future.
Carvajal said: "He will soon be ready to play."