Kylian Mbappe has reportedly given Real Madrid the green light to make a move to the La Liga giants despite Manchester United and Paris Saint Germain also being interested in his services. Marca claims that Zinedine Zidane's side are leading the race after having identified the AS Monaco sensation as their next Galactico ahead of Chelsea's Eden Hazard, Juventus' Paulo Dybala or Atletico Madrid's Antoine Griezmann.
The 18-year-old has emerged as arguably the most sought-after player for the coming summer transfer window following an impressive breakthrough since his debut for Monaco in December 2015.
He has scored 24 goals in 39 appearances for the Ligue 1 side this term, including five in the Champions League, to help his side go through the semi-finals of the European completion.
Arsene Wenger earlier this week revealed that Arsenal were very close to signing him last season before he signed his first professional contract with Monaco.
Meanwhile, on Thursday (4 May), the Guardian reported that Manchester United recently had a £72m (€85m, $93.1m) bid to lure the starlet to Old Trafford turned down as Monaco demanded a record £100m deal for his services.
And Marca is now claiming that Real Madrid are convinced they will beat Manchester United and PSG for his services after Mbappe gave his blessing to a move to the Santiago Bernabeu.
The 18-year-old wonderkid had previously suggested that he wanted to stay at least one more season at Monaco but the Spanish publication claims that his representatives have told Real Madrid officials that he is now ready to make the move this summer.
President Florentino Perez already suggested in March that Los Blancos could make a move to secure his services, saying that "everything is possible" when asked whether he saw the club's future attack as being a French duo of the Monaco starlet and Karim Benzema.
Marca understands that the presence of Mbappe's compatriot, Zidane, at Real Madrid has been key to the player's preference to move to the La Liga giants rather than to United or PSG.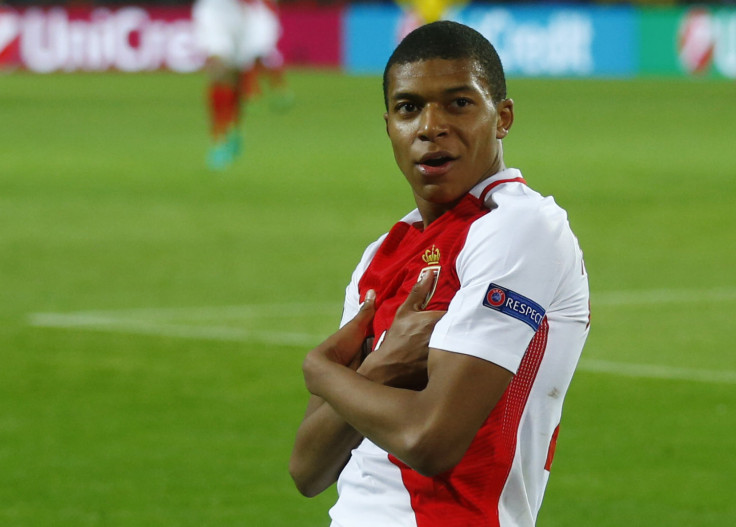 Real Madrid had a very quiet transfer window last summer but recent reports in Spain have claimed that they are ready to break the bank in the coming one to sign a new Galactico – as they did in the past with the likes of Gareth Bale or Cristiano Ronaldo.
Chelsea star Eden Hazard was said to be the main candidate as Zidane has also openly praised the Belgium international in recent years. Dybala and even Griezmann had also been linked with Real Madrid as their next Galactico.
However, Marca claims that Real Madrid are having second thoughts on the Chelsea ace following the impressive elevation of Marco Asensio into Los Blancos' first-team.
The Spanish publication claims that Mbappe is now the no.1 target despite Los Blancos knowing that luring the starlet away from Monaco could cost more than €100m.