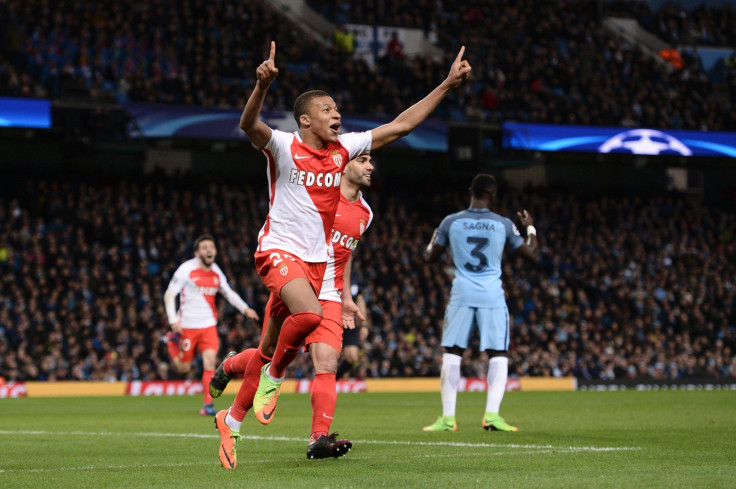 France sensation Kylian Mbappe has ruled out making a move to Real Madrid during the coming summer transfer window after claiming that it is still too soon to leave Monaco. Manchester United have also been heavily linked with the 18-old-forward in recent days but his quotes suggests that a summer battle between the two European giants to secure his services will have to wait at least one more campaign.
Mbappe has proven to be one of the main sensations of the European Football in the 2016-2017 campaign. He has netted 19 goals in 32 appearances for Monaco, including two in the recent Champions League double tie against Manchester City to help his side go through to the quarter-finals of the Champions League.
Last week Cadena Cope reported that Jose Mourinho was ready to break the World Record transfer fee paid for Paul Pogba to lure him to Manchester United after having been attracted by his meteoric eruption.
Yet, the Spanish radio station said that Monaco had already rejected two different bits from United to sign Mbappe, with the last one worth €110m (£95.3m, $118.7m).
Real Madrid president Florentino Perez later suggested that Los Blancos were ready to battle for his services, saying that "everything is possible" when asked whether he saw the club's future attack as being a French duo of the Monaco starlet and Karim Benzema.
Club captain Sergio Ramos added more fuel to the fire earlier this week after claiming that Mbappe will be "welcome" at Zinedine Zidane's side.
However, the Monaco starlet has now told Real Madrid to forget about his signing in the near future as he is still not ready to play for the Champions League winners.
"Real Madrid are for players at the peak of their careers and I'm not there yet. I'm at Monaco for now, we're going bit by bit," Mbappe told Spanish reporters following his national team's 2-0 defeat to Spain on Tuesday night.
"I've received an education and I have people around me that help to keep my feet on the ground. What I want is to play football, score goals, win games and titles, like the French league."