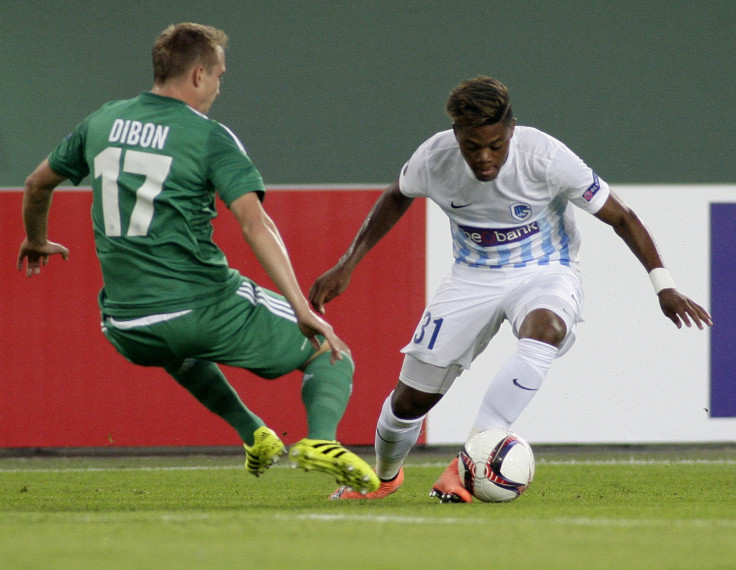 Manchester United have been urged to continue their reported pursuit of Genk winger Leon Bailey. The 20-time English league champions have reportedly been watching the Jamaican, who has scored seven goals and made five assists in all competitions this term.
The Manchester Evening News understands the club sent chief scout Jim Lawlor to watch Bailey during Genk's 3-1 Europa League win over Sassuolo last week, when the 19-year-old netted the opening goal in a comfortable win for the Belgian outfit.
Clubs from across Europe have been alerted to Bailey's talent in his second full season with Genk. But with United having already made their interest clear Alex Mcleish – manager of the club up until the end of the 2014-15 campaign – says Bailey has what it takes to make an impression in the Premier League after watching him against Cork City in July.
"I went to see them in Cork and I think he's got raw edges as well but he's going to improve," he told the Manchester Evening News. "Kids need to be allowed to make mistakes. They have to be able to evolve. This boy in the Cork game, every time he got the ball, you got excited. He's not got a long way to go and he's definitely a boy that will interest clubs because of his skill and speed.
"But you could see his finishing was something that could be dusted up. He got into some really good positions in the Cork game and he was just never able to finish them off. There wasn't that maturity in terms of his finishing but that's something that will come with practice. Young boys with his confidence work hard on these things. I thought it wouldn't be long for him."
Bailey is yet to be capped at senior international level, yet it is unlikely to take long before the biggest clubs on the continent sit up and take notice of his ability. United are at the front of the queue for his signature, despite the player having only signed professional terms at Genk in August 2015.
McLeish never worked with Bailey during his spell at Genk, but says he failed to sign him while manager of Aston Villa. McLeish believes the Jamaica Under-23 international will only improve in the years to come.
"Leon Bailey wasn't there when I was there but he was definitely in the database," he added on the United target. "I know that one of the coaches had said they were trying to get him. That kid's name was put to me when I was in England – I think it was when I was at Aston Villa – but there was no possible way we could have got a work permit at the time. It wasn't the same agent that took him to Genk. I think it was Barry McIntosh. He said that this was a wonderkid and it looks like it's turning out that way."