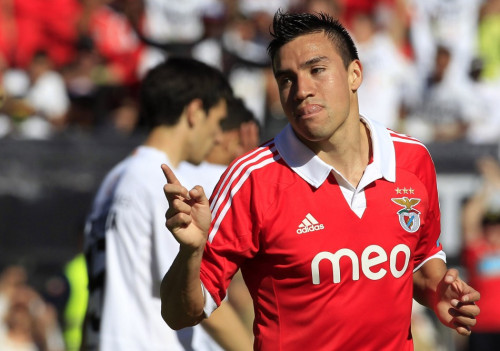 Manchester United have been handed a major boost in signing Benfica midfielder Nicolas Gaitan after he expressed his desire of playing in another league.
The 25-year-old has been a transfer target for the Premier League champions and the Express reports David Moyes has set his eyes on bringing him Old Trafford in January, along with his club teammates Ezequiel Garay and Nemanja Matic.
Gaitan joined the Portuguese outfit in 2010 and has been a regular figure for Benfica. He played a key role in helping his side reached the finals of the Europa League last season, only to lose Chelsea in the final moments of the game.
The Argentinean international has admitted that he is happy with his current employers, but had opened the door for a future move to a different league.
"I'd like to try an experience in another league, but now I have a contract with Benfica and here I'm fine. After three and half years in this team I feel part of a big club like Benfica," Tutto Mercato Web quoted Gaitan as saying.
"I am happy that Benfica have focused on me: this game often in Europe and this allows me to compare myself with great players," he added.
Meanwhile, United could face competition in signing Gaitan. French champions Paris Saint-Germain are also believed to be interested in the winger's services. Gaitan's agent Jose Iribarren has admitted that his client is happy at Benfica and is not considering a move away from the club in January.
"Until now, if there is interest from some clubs we have not had anything communicated to us, but Benfica have not received any formal offers on the table," Iribarren told A Bola.
"All are rumours. Now Nico is very happy at Benfica and he is ready to fight to win the four possible titles of the season."
However, Gaitan's representative admitted that he has not received any offers for the Argentine's services, but admitted that interested clubs can approach Benfica over a potential transfer.
"We start from this premise: anybody who wants Gaitan must speak with Benfica. Then, once the club accept the offer, they can talk to me. Personally, I have not spoken to anyone, as its clearly not appropriate for me to give away Benfica's players," Iribarren told Tutto Mercato Web.