Manchester City have vowed to make bitter rivals Manchester United wait as long as possible to win the title this season, with Joleon Lescott insisting the Citizens owe it to the fans to keep fighting, despite United being eight points ahead of them in the table.
After Sir Alex Ferguson's squad took down QPR on Sunday, and City faltered to Arsenal, the title appeared to be all sewn up by the Red Devils, with six games left to play in the season.
The events sum up a massive turnaround in the Premier League, with City looking favourites to win for the last five months, particularly after defeating United 6-1 last October.
And with City now facing the possibility of United lifting the trophy at Etihad Stadium, Lescott says they will do everything in their power to stop that from happening.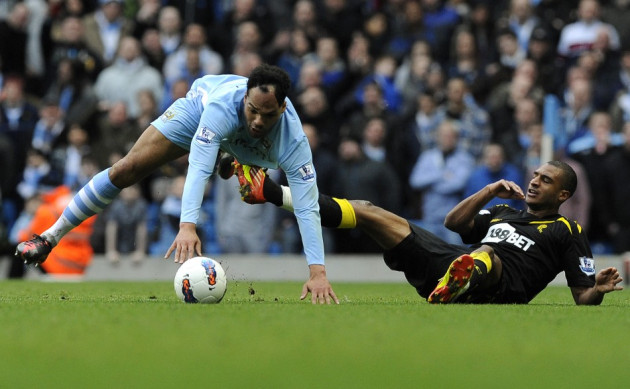 "We don't want to let them win it at the Etihad Stadium," he told Sky Sports.
"We'll do everything in our power not to let that happen.
"It's not going to mean much if we do the double over United and lose the league but I'm sure that when that game comes around everyone will be raring to go."
While the defender is clearly frustrated that City no longer have control over their own chances to win the title this season, Lescott insists the side will keep working towards making life as difficult as possible for United.
"It's out of our hands but we've got to keep going and if United slip up then we've got to be there to capitalise," he explained.
"If they don't, then obviously it's going to be impossible for us to catch them now.
"We're professional and we owe it to the fans that we're not going to roll over and die.
"We've got to apply ourselves in the right way in every game."
City face West Brom tonight, while United travel to Wigan, and both sides will be looking to take maximum points, though for City it would appear to be a much more desperate situation at hand.