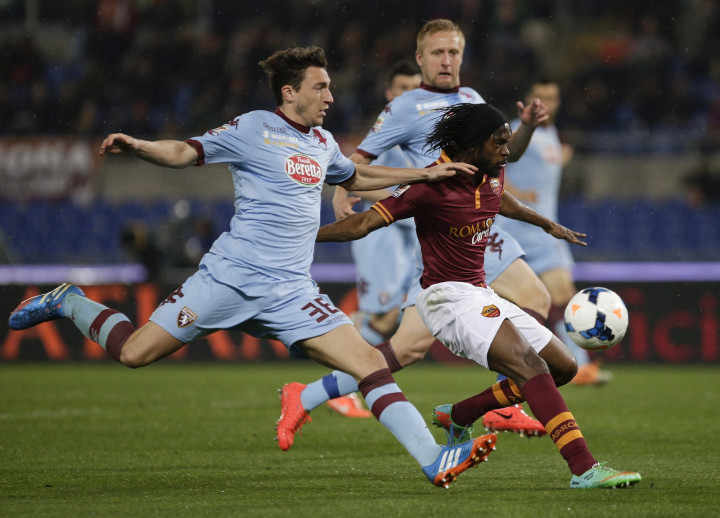 Manchester United are reportedly tracking Torino defender Matteo Darmian and could make a move during the January transfer window.
According to the Mirror, Louis van Gaal has been keeping tabs on the Italian international and has had him extensively scouted in the past.
The Dutchman is keen to sign a couple of quality defenders and feels Darmian will be a good addition to the United squad. He is most impressed with the defenders ability to comfortably adapt to both full back roles being a two-footed player.
Van Gaal is keen to bring in a new right-back as he is not impressed with Rafael's performances and has recently been linked with a move for Barcelona's Dani Alves, who is set to leave the Catalan club at the end of the season following the expiry of his contract.
It was also revealed by a Fifa agent that the Brazilian full-back has already signed a preliminary agreement to join Manchester United.
However, the former Bayern Munich coach is said to be more keen on signing Darmain, as he is younger and will demand much less in wages compared to Alves. But it will not be easy to prise him away from current club Torino, as the Serie A club values him at around £15m.
With United in desperate need of quality defenders, and with money not being an issue, van Gaal could be tempted to make a move for the Italian defender during the January transfer window.
Meanwhile, the United manager believes that the players have now understood his philosophy, but is still looking for the right balance in the team between attacking flair and defensive stability.
"I think we need more balance in the team. I said that after the match against Everton [which was won 2-1]. I am looking for balance in the team, not only spectacular attacking football but, when you lose the ball that you have a shape as a team, and that you can defend more easily and that you can kill the game better," van Gaal said, as quoted by the Guardian.
"That is also part of the philosophy. But because I'm always choosing more creative, attacking football players so we are looking for that balance," the Dutchman added.