Manchester United Transfer News: Playmaker Targets Trophies and Game Time
Manchester United transfer news: Christian Eriksen says he wants to move to a club where he can play alongside the best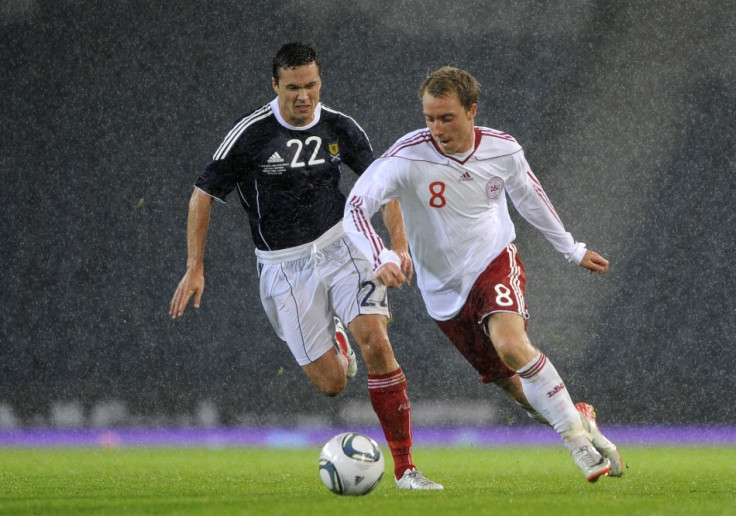 Christian Eriksen says he wants to make the move to a club that can provide him with both playing time and trophies, with the Manchester United target admitting that even though he's concentrating on Ajax, he is considering his options for the future.
Eriksen is a confirmed target for United, with Sir Alex Ferguson revealing last week that he would be keeping a close eye on the youngster when the two sides play one another this week in the Europa League.
"There's a lot of attention on the young kid, you know, the Danish boy," he told the official United website. "We'll see what he's like and obviously everybody is going to be watching him."
And now Eriksen has broken his silence over the surrounding speculation, admitting that he would like to move to a club of United's stature in England and throughout Europe.
"You can learn so much from training with the top guys," he told the Daily Mail.
"You don't learn from playing against them. When it's time to leave Ajax, I'll try to go to a bigger team who do well in the Champions League every year and win trophies.
"But I'd make sure it was somewhere where I wouldn't just sit on the bench. Right now, my mind is only focused on Ajax."
Eriksen already has some experience in England, and says he understands that the Premier League is particularly physical compared with Dutch football.
"I went to Chelsea twice when I was 14 and 15," he explained.
"I was at Danish club Odense at the time and came across with a friend to Cobham. We played against West Ham youth away and the year after we played Milwall away.
"It was a bit of a shock playing against Millwall. I knew the reputation of English football was tough but my first thoughts when we started were, 'Wow, this is different to Denmark'.
"They kicked a little more and made crazy tackles but I wasn't injured when I returned to Denmark, so I guess I did okay."
United made no senior purchases in the January transfer window, but come summer the club will no doubt be looking to bolster the squad as Ferguson creates yet another generation of trophy winners.
The midfield is an area that the manager could well be looking into, despite Paul Scholes coming out of retirement, and even if the 37 year old does stay on for another season, Ferguson will be keeping in mind that he does need a long term replacement for the England international.
© Copyright IBTimes 2023. All rights reserved.