Manchester United are interested in signing £8m-rated Stoke City goalkeeper Asmir Begovic, according to the Daily Mail. The report suggests United boss Sir Alex Ferguson is unimpressed by Spaniard David De Gea and Dane Anders Lindegaard. Of the two now at the club, it is believed Lindegaard will be the player sacrificed to make room for the Bosnian, given that the former signed from Spanish club Atletico Madrid for £18.3m.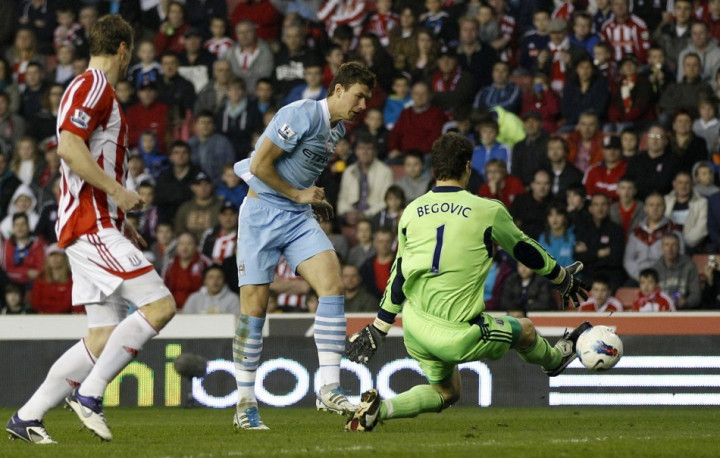 Begovic, 25, signed for Portsmouth as a 16-year-old in 2003 and spent seven seasons with Pompey before signing for the Potters in 2010. It took him a while to settle into his new club but since the 2010/11 season, he has established himself as first choice for Tony Pulis' side, making 75 appearances so far.
The Bosnian has been in good form this season, with seven clean sheets so far. And this has attracted interest from United as well as Liverpool, who were believed to be considering him as an alternative to Spaniard Pepe Reina.
Ferguson and Brendan Rodgers are set to be disappointed though. Pulis has categorically ruled out a January move for Begovic. Stoke are ninth in the league and selling the club's star player is probably not a good decision.
"We will not be selling any of our better players in the January window, and that is full stop. If a big club comes in for any of our players, then it is very difficult to say, 'No, we are not going to do it.' You hope you get interest because it shows the player is playing really well. But there will be no sales," the manager stressed.
Meanwhile, Begovic himself has denied rumours linking him with a move away. Nevertheless, he did admit to being flattered by the reported interest and did not really rule out a future move, either within his three-and-a-half year contract or later.
"As far as I know it's all speculation. It's always nice when the biggest teams in the world are looking at you. It's a compliment, but it doesn't mean anything. We keep our feet on the ground here and the manager wouldn't let that change," he explained, adding, "I have three-and-a-half years on my contract and I am concentrating on playing and staying in the team and trying to help the team be successful. I am happy here so there are no issues with that."