Everton legend Kevin Ratcliffe believes Manchester United can sign Leighton Baines for £15m. The Premier League champions have long been linked with a move to sign the left-back and the Guardian reports a £12m bid for the England international has been rejected.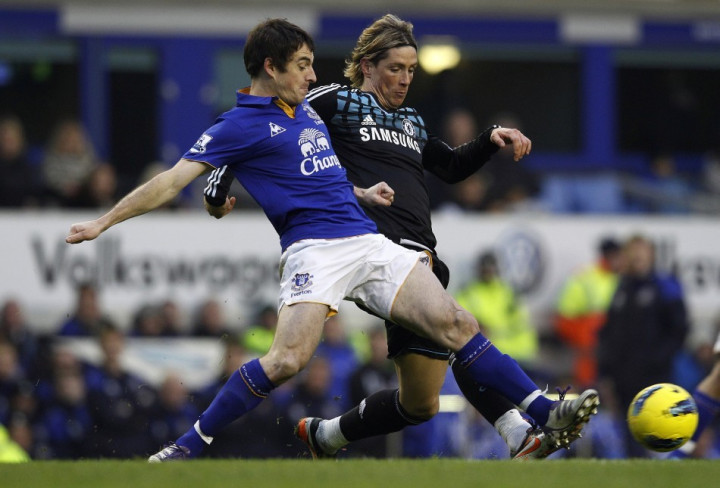 "I think if the right offer comes in Everton will take it and I think an improved bid of around £15m might sway things Manchester United's way. I would have thought the club would be looking for around the £15m mark if he was to leave," Ratcliffe told talkSPORT.
"If Everton get the right money it may be right for both parties to part company, especially because of his age. It's unlikely they'll get this much money for him two or three years down the line. But that's only if the player wants to go," he added.
Baines was one of the standout performers for Everton during David Moyes' last season in charge at Goodison Park; the Toffees' boss replaces Sir Alex Ferguson at Old Trafford on Monday. The left-back started every Premier League game, managing five goals and registering five assists.
Everton could also lose Marouane Fellaini, who is believed to be keen on a move to Arsenal. Ratcliffe believes the sale of Baines will be a major loss for the club, when compared to the departure of the Belgium international.
"Marouane Fellaini could also leave but Baines is the main concern. If he wasn't scoring he was creating goals, I think he created more than any other left-back in the Premier League last year, certainly more than Ashley Cole," the 52-year-old said.
"His free kicks and set pieces in and around the box are quality, and he's improved massively as a defender as well. He's a proven international now, he's battling it out with Cole for the number one left-back spot for England, so he'll be a big miss," Ratcliffe concluded.
Should Moyes manage to land Baines, it will be a major boost for the English champions' back four. However, at the same time, it will also raise concerns over Patrice Evra's future at the club. The 32-year-old French international is expected to be phased out of United's first team over the next few seasons.