Borussia Dortmund striker Robert Lewandowski is keeping a keen eye on Wayne Rooney's transfer situation at Manchester United and is reportedly interested in replacing the England international should the 27-year-old move out of Old Trafford in the summer.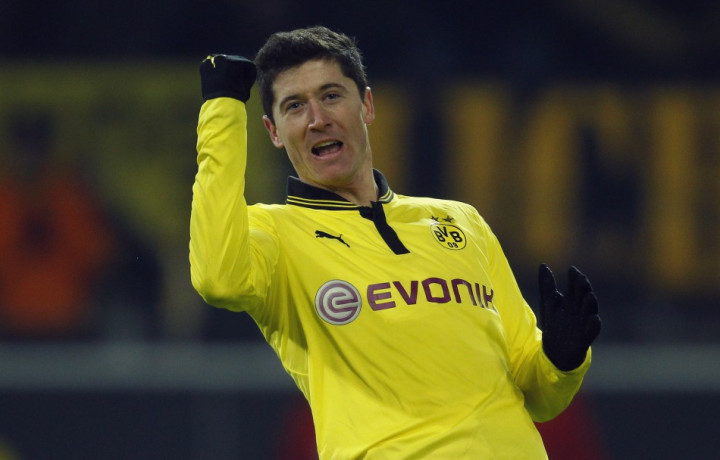 The Sun reports that Sir Alex Ferguson made a £17m bid for the Poland international in the summer but walked out of the deal after landing Robin van Persie from Arsenal. The 24-year-old, who has refused to extend his contract with Dortmund, has earmarked United as his first choice for a move at the end of the season or when his contract expires in 2014. Bayern Munich have also been linked with the player but the Pole does not want to infuriate his present club by moving to their direct rivals.
United have a wealth of options up front, with Javier Hernandez, Danny Welbeck, Rooney and van Persie competing for the two forward slots. Therefore, it is unlikely Ferguson will be looking to add another striker to the line-up without one of the four making way.
Rooney's future at the club has been questioned after Ferguson benching the ex-Everton man for the Champions League visit of Real Madrid. The Mirror believes Ligue 1 leaders Paris St Germain may be interested in the striker, given problems surrounding Swede Zlatan Ibrahimovic at the Parc des Princes. However, the Scot has since refuted rumours suggesting his one-time star was set to leave. Lewandowski's arrival may also be independent of Rooney's situation, with reports Madrid are scouting young Mexican Javier Hernandez.
Should Rooney be made available though, former Manchester United and Liverpool striker Michael Owen believes he will attract interest from most top clubs in Europe, including the likes of Madrid and Barcelona. However, a Daily Mail report suggests that may not be the case. It is understood the Spanish giants have already refused the offer to bid, citing concerns over Rooney's fitness levels.
In the meantime, Dortmund have resigned themselves to losing their player in the summer and are already looking at possible replacements.