Premier League champions Manchester United may have helped rivals Arsenal sign German international playmaker Mesut Ozil on transfer deadline day. The 24-year-old former Real Madrid star became English top flight football's second most expensive signing after the Gunners paid the Santiago Bernabeu club £42.4m for the one-time Werder Bremen midfielder.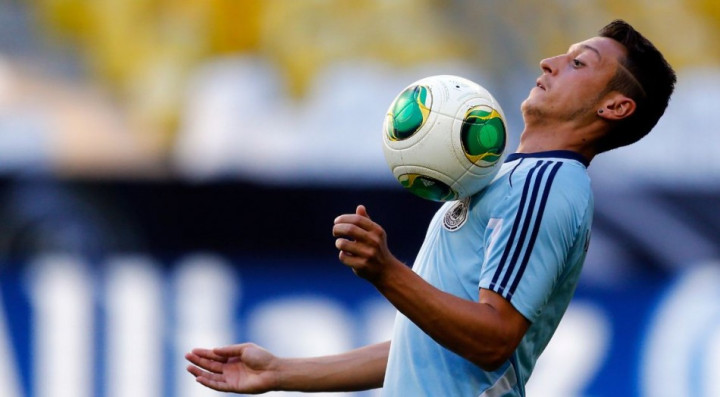 However, the Express believes Ozil was never meant to be transferred. The report claims Madrid president Florentino Perez had already accepted he would have to sell a high-profile player to balance the books after signing Welsh international Gareth Bale for £85m. But the construction magnate was reportedly keen to retain Ozil, who has established himself as one of the finest creative playmakers in the world.
Instead, another midfielder - a defensively-minded one - Sami Khedira was expected to leave.
United maintained an interest in the 26-year-old Stuttgart native through most of this summer, as David Moyes looked to add to his central midfield options. However, Old Trafford chiefs continued to display the same lackadaisical approach this transfer that they did in others. As a result, by the time they submitted a £34m bid, it was too late for Madrid to respond.
And while that was happening, Ozil was already in talks with Arsenal and undergoing a medical with the north London club (while on duty with the German national team), leaving Perez with little option but sell the man who racked up 47 La Liga assists in three seasons.
Confirmation of the late bid has also come from Khedira himself. The German was quoted, last week, as saying: "We didn't really have the chance to discuss it. I had a longer chat with Carlo Ancelotti a few weeks ago and it was relatively clear to me that I'd stay at Real. We (players) don't have any influence in the high transfer fees. Real refused the offer of Manchester United and I'm happy with that."
Moyes did manage to sign a midfielder, albeit it was the one target he should have wrapped up significantly earlier in the window. Belgian international Marouane Fellaini joined from Everton for £27.5m, according to the BBC.