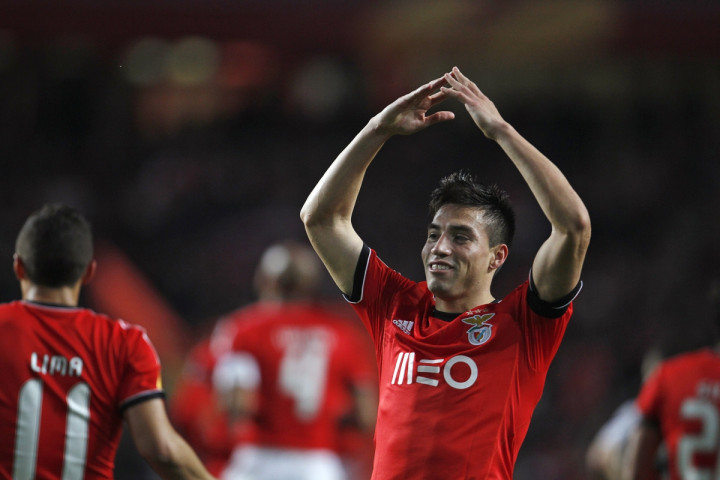 Manchester United have reportedly stepped up their interest in signing Liverpool's summer target Nicolas Gaitan this summer, according to the Mirror.
The Benfica star is a target for the Reds manager Brendan Rodgers, while the Red Devils have long been interested in securing his services.
Besides, United's derby rivals and Premier League champions Manchester City have also been linked with a move in landing Gaitan.
The report claims incoming manager Louis van Gaal wants United to sign the Argentine international in the summer transfer window. The Red Devils are ready to offer their misfit player Bebe to Benfica as part of the deal.
The United forward spent the last few seasons on-loan and has impressed for the Portuguese club Paços de Ferreira. His form has allowed him to attract potential suitors and the Old Trafford club are looking to capitalise on the opportunity to offload Bebe this summer.
The deal will see the Red Devils cough up £15m in bringing Gaitan to Old Trafford, while allowing Bebe to move in the opposite direction.
Meanwhile, Gaitan's agent Jose Iribarren has admitted his client could leave Benfica in the coming transfer window if the potential suitors can make an interesting offer.
"We've had many conversations about Gaitan in recent years but at the moment he is a Benfica player and only the club can make a decision on whether to release the player or not. If a potential buyer makes an offer that interests Benfica, we will carefully consider it," Iribarren said.
Gaitan has also dropped a hint that he could leave Benfica this summer in order to help the Portuguese club raise funds to solve its financial "problems".
"At the moment I am totally focussed on playing for Benfica since I have a contract with them. But I wouldn't mind playing in a different league and, more importantly, to put the club first to help with their serious problems," Gaitan stressed.
"Now I am talking about a purely hypothetical situation but if there is a serious formal proposal that will suit the club then I will explore all options."