Manchester United are set to replace Radamel Falcao with Arsenal striker target Edinson Cavani in the summer.
The 27-year-old has been a transfer target for the Gunners as their manager Arsene Wenger looks to bolster his attacking front. However, the north London club's Premier League rivals want to beat Arsenal in getting the striker's signature.
Louis van Gaal has already warned Falcao that he has to prove his worth. The former Atletico Madrid man is on a season-long loan from AS Monaco and it is believed that the Red Devils are still weighing up their decision before making the deal permanent.
However, the French newspaper L'Equipe reports that the 20-times English champions will sign Falcao on a £43m deal and then use him as bait in bringing Cavani to Old Trafford after the end of the season.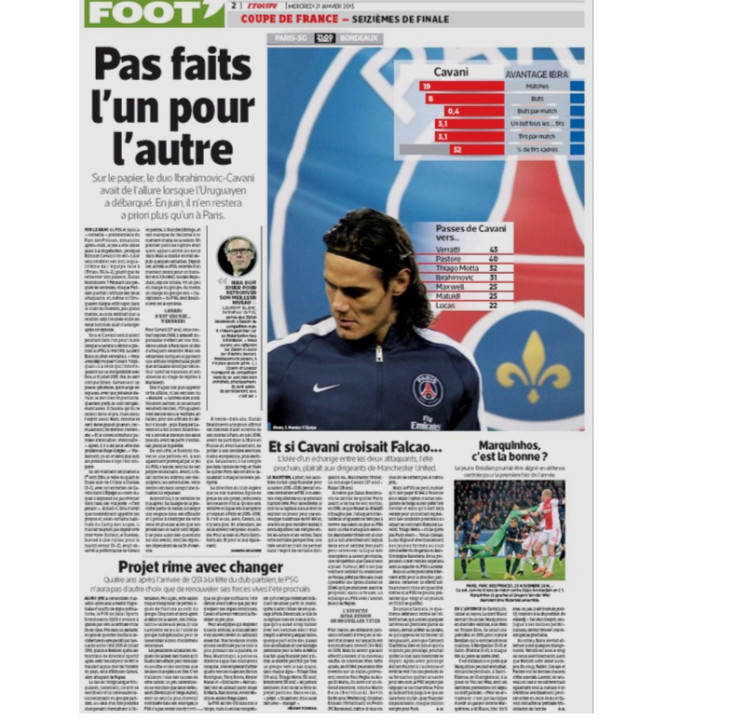 The same report suggests that Cavani and Zlatan Ibrahimovic are having difficulties at PARC des Princes and only one player will remain at PSG after the summer transfer window. It is believed that the two strikes are having a tough time due to a "clash of their egos".
"He's a good team-mate, but we are not friends," Cavani said when asked about Ibrahimovic.
Since joining PSG from Napoli in the summer of 2013, the South American has been the second choice striker, behind the Swedish international.
With one of the two strikers at PSG set for a summer exit, United are looking to pounce on the opportunity to sign Cavani. The Uruguayan international has also hinted that he could leave the French champions, alerting his potential suitors Arsenal and United.
Meanwhile, Manchester United face Cambridge United in the fourth round of the FA Cup on Friday and Old Trafford legend Bryan Robson claims that winning the competition will be important for Van Gaal's side.
"The club has proved that it means an awful lot because we are the most successful club in the history of the FA Cup, along with Arsenal," Robson told United's official website.
"That is because this football club does take it really seriously - apart from when we had to play in the FIFA Club World Championship on that one occasion in 2000. But I think everyone knows how important it is to us this season. We want to win it," he said.