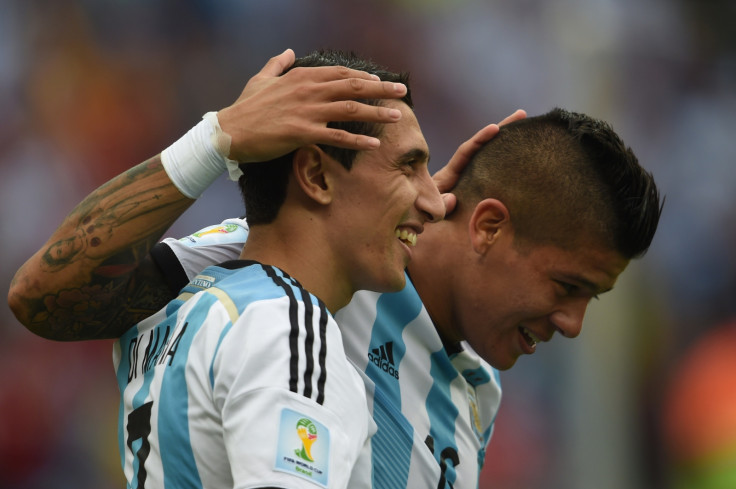 Manchester United summer signing Marcos Rojo has claimed Angel Di Maria and Radamel Falcao need more time to adapt to the Premier League than him as the "physical English style" is even harder to get used to for forwards.
Rojo moved to Old Trafford from Sporting Lisbon last summer alongside his compatriot Di Maria and the Colombia international as part of United manager Louis van Gaal's £150m overhaul.
But while the versatile Argentine defender has quickly adapted to the Premier League, playing both as a centre-back and on the left side of defence, his teammates have failed so far to make the impact expected.
When questioned by reporters why the forwards are struggling to adapt, Rojo said: "English football is very physical.
"Perhaps for the defenders is easier. I believe my adaptation has been very easy but obviously for Falcao and Di Maria is more difficult because they have to receive the ball back to goal. Here, football is very physical and it is a little bit more complicated for them."
Van Gaal deployed both Di Maria and Falcao up front during the 2-0 victory against Queens Park Rangers on Saturday 17 January but at half-time, the manager decided to return the Argentine to a natural deeper role, with James Wilson playing in the striker role.
Asked about Di Maria's surprising position as a number nine, Rojo said: "He is very fast and can be very dangerous there.
"He was trying to look for spaces but we, the midfielders and the defenders, have to assist him, providing the ball at the right time because he is constantly moving to find the ball."
Meanwhile, Rojo played down the uncertainty surrounding Falcao's future at the club after the striker was left out of the squad during the defeat against Southampton on 11 January.
"In the dressing room we don't talk about it. It is a decision from the manager. If he decides that you should be out, we just have to accept it and continue working to return to the line-up. Falcao played very well against QPR," Rojo said.
"He is happy. He is a great professional and is working very hard since the first day he arrived to the club."
Meanwhile, Rojo backed Van Gaal's decision to start the game with a 3-5-2 formation before changing to 4-4-2 at half-time following a poor first half.
He said: "I fell comfortable everywhere. As a centre-back or left-back, both with three or four in the back because I know all the positions.
"Against QPR we defended the aerial duels really well. In the second half, we changed to just two centre-backs because we needed to attack more and to take some risks but we adapted really well to it. We managed to control the game."