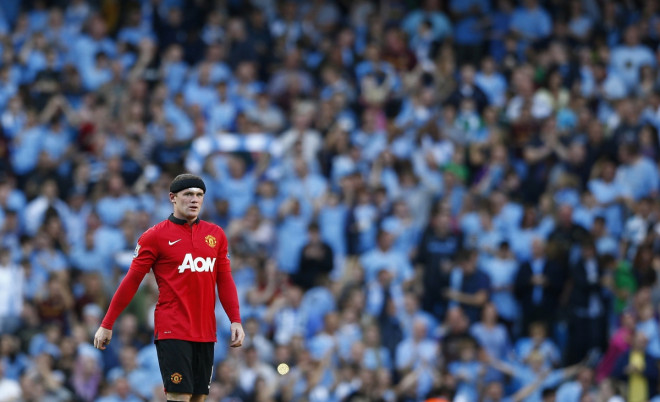 9:41: That's it! Manchester City condemn Manchester United to their 10th defeat of the season, a new low in the Premier League era, and move up to second. Resilience from United in the first half following Dzeko's opener was brutally stamped out by an imperious second half performance from City, who overpowered their opposition in every department. A worrying lack of ideas saw United's feeble attempts to restore some pride effortlessly batted away by Manuel Pellegrini's side, who were never in danger of walking away empty handed here.
FULL TIME
Manchester United 0-3 Manchester City
Arsenal 2-2 Swansea
Newcastle United 0-3 Everton
9:35: Emphatic finish from Yaya Toure and drifts past his man after pouncing on a deflection off Jones just inside the United area and drills a precise effort into the bottom corner past David De Gea.
9:34: Swansea are level! What a calamitous conclusion for Arsenal as Leon Britton's shot is partially blocked by Wojciech Szczesny before rebounding off Mathieu Flamini and into the net.
Goal! Manchester United 0-3 Manchester City (Yaya Toure, 90+3)
Goal! ArsenaL 2-2 Swansea (Mathieu Flamini OG, 90)
9:31: City get forward and a ball is sprayed over to Zabaela is suddenly the furthest man forward just inside the right of the box. Equally as strange, Valencia is the only man back and after a poor first touch from the Argentine, Valencia intercepts with the help of a slight nudge. Half hearted calls for a penalty - mostly from supporters - are waved away.
Goal! Newcastle 0-3 Everton (Leon Osman, 87)
9:27: United win another free kick, this one further out on the opposite flank but Mata's delivery is poor, allowing Toure to burst forward on one of his menacing runs. He easily side steps a challenge from Rafael and drives on before sliding the ball across to Negredo, who's on for Dzeko. The Spaniard wants a goal and hits a shot from 25 yards out, but it's charged down by Jones.
9:25: Rooney looks to curl one in from a tight angle but Joe Hart gets a firm fist to it and clears to safety.
9:24: Patrice Evra is blocked off by Zabaleta just as he threatens to burst into the City box, United free kick on the inside left channel.
9:23: Gael Clichy loses loses possession to Carrick who immediately sets Valencia away down the right. Rather than making his own way down the flank however, he looks for the overlapping run of Rafael and his pass is overhit, allowing Demichelis to step across and intercept.
9:21: James Milner has come on for Samir Nasri while Javier Hernandez has replaced Danny Welbeck.
9:20: A quick fire double from Arsenal has put them ahead! Lukas Podolski meets Kieran Gibbs' (or what is Oxlade-Chamberlain's?) cross with a sweet volley inside the six yard area. A minute later it's the German who bursts down the left and swings in a cross that Giroud meets, and taps home, much to the relief of those at the Emirates.
Goal! Arsenal 2-1 Swansea (Olivier Giroud, 72)
Goal! Arsenal 1-1 Swansea (Lukas Podolski, 70)
9:17: Rafael is freed down the right and pings a ball into the front post where Welbeck has run into space, but his flicked effort is well saved by Hart.
9:16: From a deep position Rooney bursts forward, inviting City shirts to him before sliding a ball through to Welbeck, but his low effort towards the far post is easily saved by Hart.
9:14: City starting to close up shop? Javi Garcia comes on for Jesus Navas.
9:12: United have a hint of an opportunity to break through Rooney but in minutes the attack reverts to Phil Jones having to exchange passes with Michael Carrick just inside their own half. Worrying lack of pace in this second half performance.
9:11: Carrick lumps a ball into the box that Fellaini leaps for, but it aimlessly rolls out for a goal kick. That's his last action of the evening as Antonio Valencia comes on for the Belgian.
9:09: Fellaini gives away another foul and David Moyes may have to consider taking the booked Belgian off. His turgid evening has continued in the second half and thinks could turn worse for United if they are reduced to 10 men.
9:06: Navas slides a teasing ball across the box with Dzeko in the middle, but Rio Ferdinand intervenes and nervously digs the ball away for a corner, that eventually comes to nothing.
9:03: City now stroking the ball across the pitch with unerring ease much to the delight to the travelling City fans. United desperately need to find a way of getting Kagawa into this game and Mata back into it.
9:01: After relentless pressure from City they have doubled their lead. City win a corner after Phil Jones slides to intercept Dzeko. From Nasri's delivery the Bosnian easily loses Rio Ferdinand and guides the ball into the top corner with a precise side footed effort.
Goal! Manchester United 0-2 Manchester City (Edin Dzeko, 55)
9:00: Elsewhere, Everton are 2-0 up thanks to some excellent work from Gerard Deulofeu, who pings an inviting ball in from the right where Lukaku has got ahead of his man to poke in his side's second.
8:58: What a chance for Fernandinho! City swing in the corner and Kompany easily loses Fellaini, glancing the ball onto the Brazilian who heads over from two yards out.
8:57: City have regained control of this contest in the second half and win a corner after Evra deflects Navas' attempted cross out.
8:54: David de Gea slices a clearance and worryingly looks to have hurt his ankle. Anders Lindegaard is warming up.
Goal! Newcastle 0-2 Everton (Romelu Lukaku, 52)
8:52: Bright start from City again as Yaya Toure brillliantly finds Nasri who looks for Fernandinho to cross. It falls to Dzeko but Jones quickly blocks. City get the corner but Dzeko heads over.
8:50: Indication is that Moyes is going for it with that change. Cleverley had a very decent first half after been moved onto the right but the Japanese international undoubtedly offers more going forward.
8:48: Second half about to get underway and Shinji Kagawa has come on for Tom Cleverley.
8:41: Elsewhere, a Wilfried Bony goal has given Swansea the lead over Arsenal while a brilliant solo effort from Ross Barkley has Everton leading Newcastle United at St James' Park.
8:37: Manchester lead thanks to a goal from Edin Dzeko after just 45 seconds. The visitors were irresistible in the opening 10 minutes and could have blown United away, but David Moyes' side have managed to claw their way back into this. However if it was not for another sublime save from David De Gea they could have been two down and the home side are extremely lucky to still have ten men on the pitch after one of the most blatant elbows you'll see this season from Marouane Fellaini. City lead, but we are nicely poised for an enthralling second half.
HALF TIME
Manchester United 0-1 Manchester City
Arsenal 0-1 Swansea
Newcastle 0-1 Everton
8:33: Fernandinho is booked for clipping the heels of Wayne Rooney after he burst past him near the centre circle.
8:32: Rafael bursts down the right in a bid to keep an overhit pass in play but can't quite make it and clatters into an advertising board. After a moment to catch his breath, the Brazilian is up again.
8:31: Danny Welbeck does well initially to burst past Demichelis on the left but loses control and settles for a corner. Someone fouls someone in the box though and the free kick goes City's way. Three minutes of extra time added on.
8:28: United again work the ball well over on the left flank before Rooney swings a cross over with Fellaini threatening to burst onto it from the right, but in the end, doesn't and Clichy does well to clear. Poor half from the Belgian so far.
8:24: Great chance for United! Cleverley and Rafael again effectively combine down the right before the Brazilian pings an excellent cross into the box that slides under Rooney's foot! Mata is right behind him but after a neat bit of control he slams a shot over the bar with his weaker right foot. Great chance for an equaliser.
8:21: United collect a loose City pass close to their own goal but Rafael does brilliantly to side step the pressing Nasri and carry the ball upfield. The Brazilian continues his run after switching play to the left, but he needn't have bothered as Mata stalls before swinging a harmless cross into the box that is collected by Hart.
8:18: Cleverley offers Rafael an option on the right before bringing play in field where he looks for Mata. Fellaini is pulling away inside the City box but the Spaniard's curling through ball has just too much on it.
8:16: Fellaini is booked for a blatant elbow on Zabaleta. Not quite sure how that was only a yellow.
8:13: United again impose themlseves on the counter as Carrick crosses from deep, where Welbeck chests down to Marouane Fellaini who suddenly has a great opportunity to open his United account is spectacular fashion, but his half volley is straight down Joe Hart's throat.
8:11: United looking increasingly dangerous on the counter as Mata drives upfield and side steps Kompany with ridiculous ease. He finds Cleverley, who sprays the ball to Rooney who has emerged on the inside right channel, but his attempted cross is cleared away by City.
8:10: Ross Barkley marches towards goal unchallenged, sidesteps a challenge from Collocini before blasting the ball past Tim Krul. Easy for the Everton youngster.
Goal! Newcastle 0-1 Everton (Ross Barkley, 22)
8:06: This is better from United, Rooney sprays a ball out to Welbeck on the left flank but his partner in attack just has to check his run to collect the ball, otherwise he would have been clean through. United win a corner but Hart punches clear.
8:04: Rio Ferdinand lays a dodgy back pass to De Gea whose clearance is met by Toure. The Ivorian slides a perfect ball through to Silva who finds Dzeko inside. It looks like it's going to be a second but De Gea makes an outstanding diving save to deny his countrymen! United immediately launch a counter attack after Mata finds Welbeck who then looks for Rooney, who drags Kompany wide and forces City into their first desperate piece of defending of the evening.
8:01: Danny Welbeck attempts to lift his side with a driving run up the pitch but the England man overruns it and clatters into Zabaleta who has nicked possession away from him. Both men are down after the collision and Welbeck be shown a yellow card.
7:58: Swansea take the lead at the Emirates! And it's all rather simple really, Neil Taylor whips an inviting ball in from the left where the towering frame of Bony is well placed to direct a header into the back of the net.
Goal! Arsenal 0-1 Swansea (Wilfried Bony)
7:55: Juan Mata has moved infield for United with Tom Cleverley occupying space on the right wing. This game could be over within the first 20 minutes if United do not get their act together.
7:53: It's nearly two! Rio Ferdinand slips and his effort to poke the ball across the pitch is instantly pounced upon by Silva who rampages into the box with defenders backpeddling, but he can't get enough on the shot and De Gea makes the save.
7:51: United cannot get near David Silva at the minute. The Spaniard is effortlessly carving through United with runs and passes. United's midfield has been utterly anonymous so far.
7:49: City want a second and United cannot get out of their final third. Phenomenal start from the away side; it took them just 45 seconds to get started here.
7:47: What a start from City! Cutting in from the left Toure finds Silva who deftly dances past Rio Ferdinand and is only denied by an excellent sliding tackle from Rafael, City press and immediately win the ball back in the United area as Nasri looks to cut in from the left and shoot. His effort smacks the post but Dzeko is on the scene to slam the rebound into the roof of the net! United are shellshocked.
Goal! Manchester United 0-1 Manchester City (Edin Dzeko, 1)
7:45: Manchester City get us started and immediately go on the attack.
7:41: United have only won one of their fixtures against teams in the top nine of the Premier League this season. Tonight wouldn't be a bad time to double that tally.
7:38: Arsenal's nemesis from last season is back for Swansea City tonight. Michu, having not played since December, will attempt to add to the two goals he scored at the Emirates last season.
7:36: Less than ten minutes away from kick off in all of this evening's fixtures.
7:32: David Moyes, speaking to Sky Sports, said:
We've got one extra midfield player, we wanted to make it tighter in the middle of the park. We'll use Juan Mata in different positions throughout the game as we have done all season, use him wisely and get the benefit of him.
City will play David Silva behind Edin Dzeko up front. Maybe Samir Nasri will drop behind Edin Dzeko, I don't know, but they've been roughly the same all season. They've shown what they can do, they are a big threat going forward.
7:28: Liverpool and Chelsea fans will find themselves in the usual predicament of cheering on United this evening. Three points for City will lift them above Brendan Rodgers' side into second just two points behind the Blues with two games still in hand over the league leaders.
7:25: Despite the gaping points difference between the two sides tonight, Manuel Pellegrini doesn't see his side as favourites this evening.
Maybe we have more points, but I don't feel that we are the favourites.
Maybe Manchester United are not in their best season, but they are a top team with great players.
Winning today is one of ten steps that we must take towards the title. We hope that we can play as well as we did at the Etihad in September." [via Sky Sports.]
7:22: Away from the Premier League, United's Champions League quarter final opponents Bayern Munich can clinch the Bundesliga title with seven games to go with a win over Hertha Berlin this evening. Wins for Borussia Dortmund and Schalke at the weekend ensured the champagne was kept on ice at the Allianz Arena last Saturday, but three points will get the party started for Pep Guardiola's side tonight.
7:17: All in all, City have plundered 15 against their arch rivals in their last five meetings, only failing to score more than once on one occasion.
7:15: Meetings in recent seasons haven't reflected well on United. They have mustered just one win in the last five Manchester derbies in the Premier League, that dramatic 3-2 courtesy of Robin van Persie's last minute free kick at the Etihad Stadium.
7:12: Sergio Aguero inspired City to win on their last visit to Old Trafford in what seems like a lifetime ago, but the circumstances are very different tonight. City's win last April reduced United's lead at the summit of the Premier League to a mere 12 points as they romped to their 20th league title. Tonight it is Manuel Pellegrini's side cross the Manchester divide with a 12 point advantage with top spot within their grasp if they can will their remaining games in hand.
LINE UPS
Arsenal: Szczesny, Sagna Mertesacker, Vermaelen, Gibbs, Flamini, Arteta, Oxlade-Chamberlain, Rosicky, Cazorla, Giroud
Swansea: Vorm, Rangel, Williams, Chico Flores, Taylor, Britton, Shelvey, de Guzman, Routledge, Michu, Bony.
Newcastle: Krul; Yanga-Mbiwa, Williamson, Coloccini (c), Dummett; Sissoko, Anita, Tiote, Gouffran; de Jong, Cisse
Everton: Howard, Baines, Distin, Stones, Coleman, Barry, McCarthy, Deulofeu, Barkley, Osman (c), Lukaku.
7:06: Juan Mata makes his Manchester Derby debut this evening and he is desperate to impress the Old Trafford crowd.
They are our 12th player and are so important to us. They deserve a reward from our side," he said. "What we experienced in the Liverpool game was unbelievable. We lost 3-0 on a very difficult day yet when we were walking off the pitch at the end they were singing and clapping. It was amazing. They deserve more nights like we saw against Olympiacos."
7:02: No places in the United squad for Ryan Giggs or Adnan Januzaj. The 40-year-old and 19-year-old will watch on from the side lines.
6:57: Elsewhere this evening, both Alex Oxlade-Chamberlain and Kieran Gibbs start after both were cleared by the FA after Saturday's hand ball fiasco. Just the two changes for the Gunners from the side that was battered by Chelsea, Vermaelen and Flamini come in for Koscielny & Podolski out. Kim Kallstrom is on the bench.
6:52: David Moyes opts for a midfield three of Michael Carrick, Tom Cleverley and Maroaune Fellaini to try and contain the force of Yaya Toure and Fernandinho. Does he have any other option?
LINE UPS
Manchester United: De Gea, Rafael, Ferdinand, Jones, Evra, Carrick, Cleverley, Fellaini, Mata, Welbeck, Rooney
Subs: Lindegaard, Buttner, Fletcher, Kagawa, Young, Valencia, Hernandez
Manchester City: Hart, Zabaleta, Kompany, Demichelis, Clichy, Yaya Toure, Fernandinho, Nasri, Silva, Navas, Dzeko
Subs:
TEAM NEWS: Rio Ferdinand starts alongside Phil Jones in defence. Alvaro Negredo misses out for City as Edin Dzeko leads an attack of Samir Nasri, David Silva and Jesus Navas.
6:47: After a goal-laden weekend, Tuesday's is looking a bit promising too. The second Manchester Derby of the season takes place at Old Trafford as David Moyes and his side look to disrupt City's title charge by any means necessary. Elsewhere, Arsenal will try to put the pieces of their challenge back together following Saturday's humiliation at Chelsea as they host Swansea City. That result at Stamford Bridge gave faint hope to the sides below the Gunners of a late charge for fourth place with Everton hoping to keep pace away to Newcastle United.
6:45: Good evening and welcome to IB Times UK's LIVE coverage of Tuesday's Premier League action.