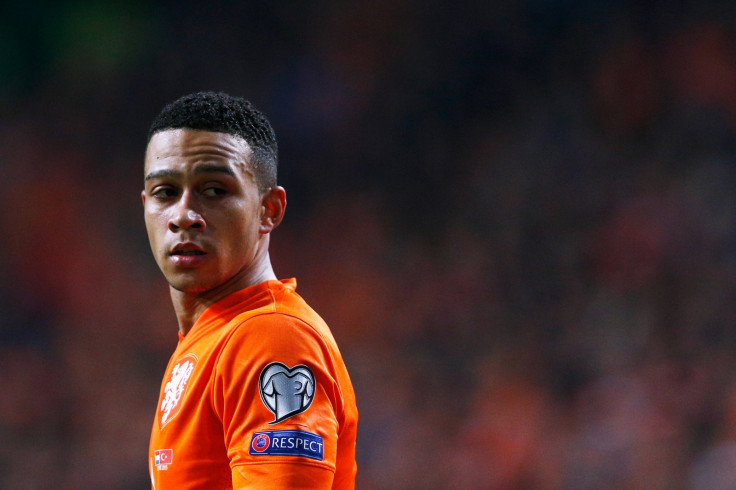 Manchester United and PSV Eindhoven have confirmed Memphis Depay will be the first major arrival at Old Trafford this summer, pending a medical.
Reports of how much the 21-year-old will cost the Premier League side vary, but according to Algemeen Dagblad, the Dutch publication who initially broke news of the done deal on 7 May, United will pay an initial €29m that will rise to €31m with bonuses.
Whatever it costs them, Louis van Gaal's side have acted quickly and decisively to sign a talented player who was also wanted by Liverpool and Paris Saint-Germain. But what does his imminent arrival mean for two United youngsters whose positions could be most under threat with Depay's arrival?
Adnan Januzaj's golden boy status has faded this season and talk of a temporary move away from Manchester will only heighten following the news. Meanwhile, PSV's technical director Marcel Brands previously hinted the arrival of the Belgian youngster at the Philips Arena could play a role in the Depay deal.
"If such a player like Adnan Januzaj would like to come and play Champions League football, you have a chance of making a temporary move," Brands said.
Name-dropping Januzaj as clearly as Brands did acted as the closest we will get to an official confirmation of interest, but statements from both PSV and United have yet to mention the possibility of another player included in the deal. It also remains to be seen whether Januzaj would be keen on such an arrangement.
While it would hold the promise of Champions League football next season, something United are yet to secure themselves, opportunities to remain in the Premier League with Everton closely linked with a move are likely to remain more appealing.
What happens to Januzaj if he stays at United?
How will the Belgian fare if he stays at the club? Depay has starred in a left forward position, where he has scored 21 league goals this season and that is where you imagine he will end up next term.
After excelling in a more orthodox left-wing position in his breakout season under David Moyes, Januzaj has featured across the attack this term. Of his eight starting appearances, two have come on the wide right, four on the left of midfield and two through the middle.
Van Gaal's inclination to use Januzaj across the pitch rather than in the one position where he has shown the most promise may ultimately be his saving grace. Is it that the manager is confident the 20-year-old can adapt to a different role?
Or is that Januzaj has failed to meet expectations in not one, but three positions, this season? That remains to be seen until we know for sure where he will be playing in 2015-16.
A more likely option if a United player is to move in the other direction in the Depay transfer is Andreas Pereira. Having begun his footballing career at the Dutch giants after moving to Netherlands from Belgium in 2005, the 19-year-old would be no stranger to the set up in Eindhoven.
Pereira appeared close to leaving without starting a competitive game for the United first team as recently as April as contract impasse rumbled on, before in May he finally penned a new three-year deal, with the option of a further year.
During the height of the contract stalemate, PSV were among the clubs to have held talks with his father and agent, Marcos Pereira. Respected Dutch magazine Voetbal International reported at the time Marcos was keen for his son to consider a return to Netherlands. With the possibility of a permanent move this summer seemingly off the table, a loan move could appease all involved.