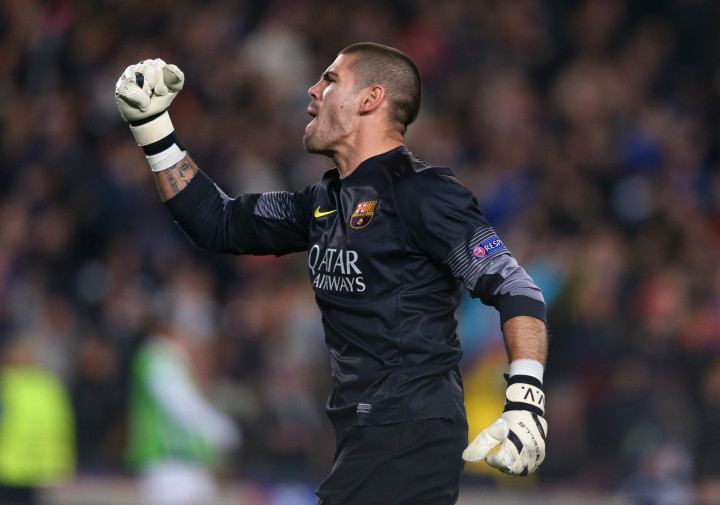 Manchester United have decided against signing former Barcelona goalkeeper Victor Valdes, reports in Spain have claimed.
In October, United manager Louis Van Gaal handed the Spaniard the chance to complete his rehabilitation with the Old Trafford club following the injury he sustained after tearing his anterior cruciate ligament in March.
After ending his contract at the Camp Nou in June, free agent Valdes has been heavily linked with a permanent move to Manchester.
When asked whether Valdes would join them once he was ready to return to action, Van Gaal said: "United always has their eyes open.
"Every human being is special because they all have identities. It's a principle of my philosophy that you have to respect the individual human being. [Valdes is] special because I've worked with him and we've retained our relationship, which is not always the case."
However, Catalunya Radio, one of the most reliable media outlets when it comes to covering Barcelona's issues, has claimed Valdes will not join the Premier League giants.
According to the Catalan radio station, the 32-year-old goalkeeper has returned to the city of Barcelona after one month of training with Manchester United as Van Gaal's side "are not going to sign him".
Should the reports be true, Valdes' future will once again be up in the air.
Monaco backed out of a contract agreement with the player earlier in the summer due to his injury and Valdes has since been linked with a number of Premier League clubs including Liverpool, Arsenal and Manchester City.
Even though Valdes has reportedly returned to the Spanish city, it does not look like he will rejoin the La Liga giants as they signed both Claudio Bravo and Marc-Andre Ter Stegen during the summer.