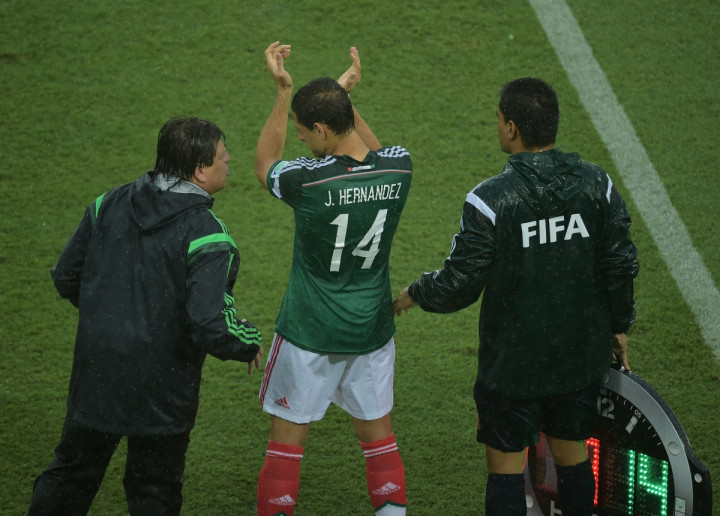 Mexico manager Miguel Herrera has hinted that Javier Hernandez will start on the bench again on Tuesday night against Brazil and suggests the striker needs to leave Manchester United to rediscover the confidence that made him a first team star.
26-year-old Hernandez has been an integral member of the Mexico XI for a number of years but was left on the substitute's bench for his nation's World Cup opener against Cameroon.
The United striker was introduced late on in the game and was involved in the move that saw Herrera's side seal a priceless 1-0 victory but failed to make lasting impression, missing a guilt-edged chance to give his side a comfortable advantage.
While supportive of his striker, the Mexico boss believes Hernandez has lost his place in his side due to his struggles for first team football under both Sir Alex Ferguson and David Moyes admits the player would be better placed at another European club.
"Chicharito had a difficult year because he had a different coach to the one that brought him to the club," Herrera said.
"That coach (Sir Alex Ferguson) left and he had another one (David Moyes). But he has an impressive market in Europe and I believe he has huge possibilities to be part of another team, being one of the starting players.
"Sometimes people get heated up and carried away because they want to see Javier on the pitch but, with what we showed in the last match against Cameroon, people understand that we've decided to have 11 players that are going through their best time.
"When Javier went on, he started the move for the goal but he also passed when he might have shot."