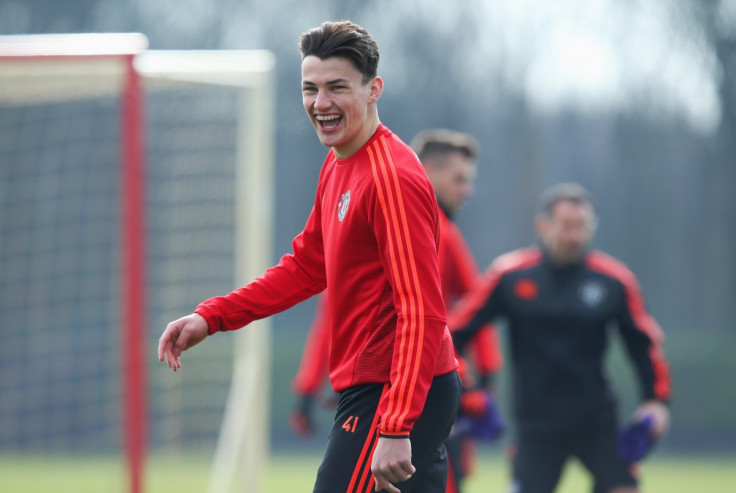 Manchester United youngster Regan Poole says he won't be disheartened by the arrival of more centre-halves at the club this summer and will continue to wait for his own first-team chances.
Poole, signed by United from Newport Town in 2015, was one of a number of youngsters handed their debut by Louis van Gaal during the 2015-16 season. The defender's big night came in the second leg of the club's Europa League clash against Danish side Midtjylland, the same evening Marcus Rashford announced himself to the world with two goals on his senior debut.
While Rashford would go onto become a first-team regular, Poole has not featured for the senior team since. The wait is likely to continue next season with a new centre-half thought to be on Jose Mourinho's four-man transfer wish-list this summer, with Michael Keane named the club's defensive target by The Times.
Poole does not turn 19 until next month however and is fully aware time is on his side.
"I've had a little taste of the first team and that is what I want again," the Wales Under-21 international said, Sky Sports report.
"But I'm only 18 and sometimes you just have to step back and think: 'I've still got a few years there and I've still got time'. So I just have to be a little bit patient and wait.
"You see these centre-backs coming in for millions of pounds and sometimes it does get you down, but I've still got a long time there and hopefully I get longer after my contract ends.
"I want to be at the club for as long as possible so I look beyond stuff like that (big money signings) and ahead to when I'm 21 or 22," he added.
"Obviously it was nice to get my debut at 17, which was unexpected. For me that was an achievement, and I just want more of it."