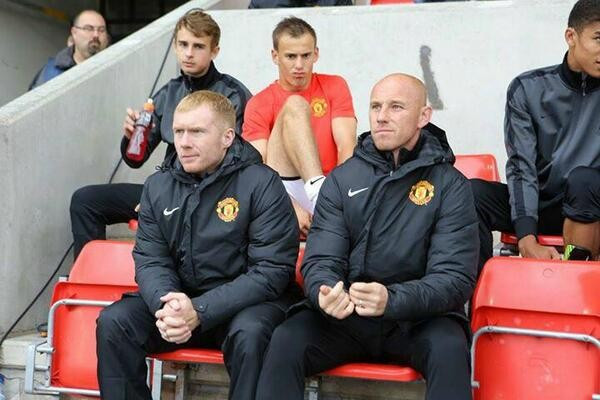 Manchester United great Nicky Butt has identified 18-year-old Andreas Pereira and James Wilson, 19, as two of the brightest prospects at the club and believes both youngsters have all the necessary qualities to reach the top at Old Trafford.
Pereira, a Belgian-born midfielder has made the step up from United's academy to the under-21 side this term and recently scored his first goal for Warren Joyce's side in a win over West Ham United at Old Trafford.
The former PSV Eindhoven youngster, who recently declared his allegiance for Brazil despite having represented Belgium at under-17 level, has begun to establish for himself the versatile number 10 reputation. Along with striker, Wilson, the pair featured in Butt's Under-19 side in the UEFA Youth League campaign and the Treble-winning midfielder has earmarked the two for future success.
"Both are coming along really well and they're both very different kind of players," Nicky Butt said of the duo, speaking to Bleacher Report.
"Wilson is very explosive, an out and out goal scorer with good pace and he's good size too. At 6'2, he'll be a big, strong boy in a few years' time.
"He's still only 19, but he's one that, if he keeps his head down, could be a superstar in a few years. He's got a lot of work to do yet, but he could be as good as anyone who's played for this club in a long, long time.
"Andreas (Pereira) is different; more of a tricky player. He's Andres Iniesta-like coming off the left onto his right foot and can play from the right too.
"He's very young, still maturing, he needs to be aware it is not all about trickery and sometimes you have to show how good you are doing the simple things –then every now and then show a bit of magic.
"If he learns that he can be a superstar; he's got the x-factor you need to play at this club."
Pereira and Wilson can look to the example set by Adnan Januzaj who made the seamless transition from the under-21 ranks to the first team this season.