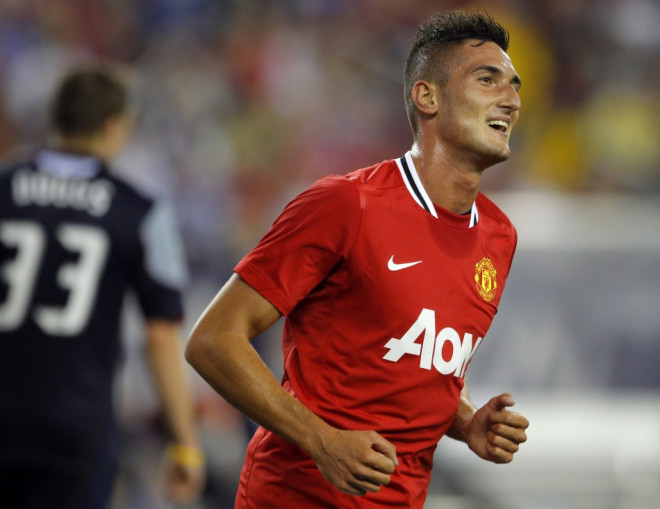 Manchester United striker Federico Macheda has revealed the extent of his strained relationship with David Moyes after failing to win the Scot's faith at Old Trafford.
Following his memorable debut for the club five years ago where he struck a last minute winner against Aston Villa to reignite United's title charge, Macheda's once promising career has faded in dramatic fashion.
Now 22, the striker recently joined Birmingham City in the sixth loan move of his career until the end of the season, when his contract with United expires.
Having not featured for United since December 2012, Macheda is eagerly awaiting his next challenge away from Old Trafford having been ignored by Moyes ever since he was appointed Sir Alex Ferguson's successor.
"I haven't had that much to do with him [Moyes] because he has been working with the first team," Macheda told the Daily Telegraph. "I've been left out from the team and of course that was disappointing but you can understand a new manager wanting to work with new players.
"He made his choice and I went my way, everyone was happy. I spoke with him before I came here. I said I wanted to go to Birmingham and he agreed, so that was that.
"I didn't go on pre-season this summer and I don't know why. But I was prepared because I knew the new manager would want to bring in new players."
Despite his blistering arrival as a 17-year-old, Macheda has made just 19 appearances for the United first team. In his serious of loan stints that have never lasted more than half a season at a time, he has managed just six goals, three of which have come during his spell at St Andrews.
But despite his change of fortunes during his time at Old Trafford, Macheda insists he will leave the club remembering the good times, particularly the guidance of his former manager Sir Alex Ferguson.
"I don't think I will stay at United but whatever happens, nobody can take away the memories of my time there," Macheda added.
"Sir Alex was amazing for me, he believed in me so much. After I scored two goals against Charlton last month he sent me a text message straight after the game. That was incredible because I hadn't spoken to him for a long time so to get that text was a relief. He said, 'Well done and keep going'."