Manchester United's Juan Mata 'takes responsibility' for 'rigorous' red card before Liverpool trip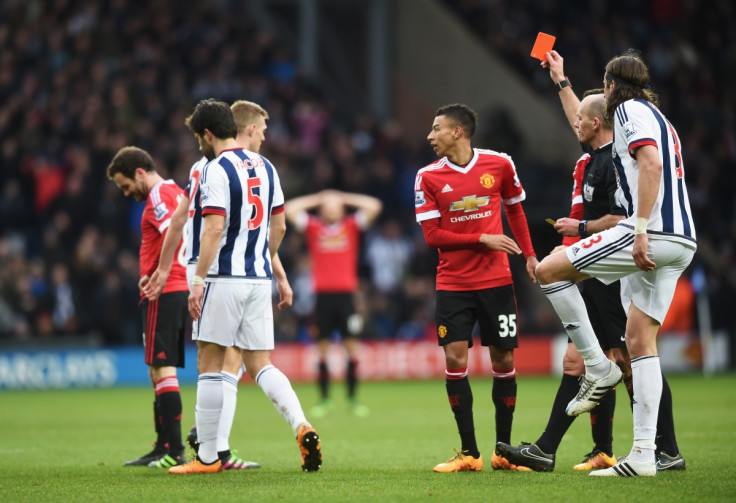 Juan Mata has taken "responsibility" for leaving Manchester United with 10 men for more than an hour during the 1-0 defeat against West Bromwich on Sunday (6 March) after being booked twice in the space of three minutes. The former Chelsea star said that he felt especially bad for having hurt both his teammates and the club supporters although he believes that the referee's decisions "were rigorous".
The Spanish international playmaker had never previously been seen off in his career, both during his time in La Liga and the Premier League. However, he was booked twice in the space of three minutes by referee Mike Dean during the first-half against West Brom, given a first yellow card for blocking Darren Fletcher's quick free-kick and shown the second card after a late challenge on former United midfielder Darren Fletcher.
Louis van Gaal admitted after the game that Mata's first yellow card was "stupid" but believes the referee should have been taken into account the Spaniard's good behaviour reputation before he sent off the midfielder.
And Mata wrote in his weekly blog: "After almost 500 games as a professional player, this Sunday I was sent off for the first time in my career. As you can imagine, it's not easy for me to write these lines. The truth is this is a new and strange situation for me, not easy to assimilate, but we learn from everything,"
"I know that, in football, we see things like these every week, but obviously what hurts more is that my team-mates had to fight with 10 men for a long time. I have the feeling that both decisions were rigorous; that, in many occasions, we see more serious fouls that are not penalised in such a way, but at the same time I could have avoided them and I take responsibility."
The Spaniard, nevertheless, is ready to move on to repay the fans in the special Europa League trip Liverpool on Thursday 10 March.
"It also leaves me with a bad taste for the supporters who travelled to the stadium, and for those who were watching the game from home, but I must carry on as always and from now on I'm already focused on the next game, the derby against Liverpool in the Europa League," Mata added. "In this sport there's no time for celebrations or moaning, and after last Wednesday's joy for the win and the goal against Watford, now I have to go through a more bitter experience. That's the way it is. What matters is to move forward and to always learn from each situation. And so I will."
United arrived at the The Hawthorns following four consecutive victories, including a 3-2 victory over Arsenal. Mata hopes his side will respond to the setback immediately with a victory at Anfield.
"The team was in a good shape. I hope this blot won't make us forget that we were on the right track, and that we have to keep believing in ourselves to achieve the goals that are still in our minds from now until the end of the season," Mata added.
"That's it for today. I take responsibility in the good and the bad moments, as I've always done and I will always do. Thank you very much for your support."
© Copyright IBTimes 2023. All rights reserved.