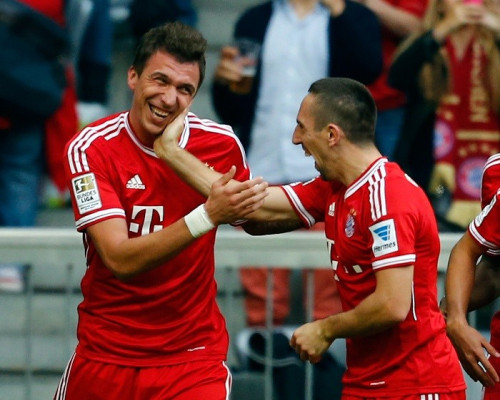 Best Rumour of the Day
After Bayern Munich finally confirmed the worst kept secret in football by announcing Robert Lewandowski will arrive at the club in the summer, the future of their current striker quickly became the subject of Monday morning's gossip columns.
Mario Mandzukic hasn't done anything to suggest he isn't good enough to lead Pep Guardiola's attacking line, but the arrival of the Borussia Dortmund striker who so mercilessly tore Real Madrid apart last season he shifted the Croatian into the frame for a move elsewhere.
Arsenal, whose need for another forward was exemplified after Theo Walcott was ruled out for a month, have been quickly linked and although Arsene Wenger may have preferred a bit of Robert Lewandowski himself, Mandzukic would appear to be a plausible option for the Gunners. In the summer anyway, as it's very unlikely Guardiola will shoo his current number nine out of the club at the half way point in the season.
Worst Rumour of the Day
When Salomon Kalou departed these shores for Lille 18 months ago, the thought of the Premier League's elite clamouring for his signature once again never once crossed our minds. A prospective move to a West Ham side utterly bereft of strikers with working limbs during the summer made some sense, but the reincarnation of this particular rumour has some strange developments since.
Reports today suggesting the likes of Liverpool, Arsenal and Tottenham are now keen to bring the former Chelsea forward in to bolster their attacks today sound wide of the mark at best, ludicrous at worst. The 28-year-old has, to his credit, struck eight goals this season to help his side to within a point of Ligue 1 leaders Paris Saint Germain, but an emotional return to the Premier League seems unlikely.
It's also been a busy afternoon for West Ham United. After the club's owners released a statement announcing their undying love and backing for the under-fire Sam Allardyce, they promptly found themselves linked with a move for Wolves defender Roger Johnson. The same Roger Johnson who has suffered relegation in each of his last three seasons. Bodes well, doesn't it?
Tweet of the Day
With clouds of pessimism swirling over Old Trafford, Manchester United fans could be in need of a lift after exiting the FA Cup at the third round stage in what was their fourth home loss in six games. While many are hankering for any morsel of positive transfer news, the club's official Twitter account opted for:
Our U19s are through to the semi-finals of a six-a-side tournament in Germany. Nicky Butt's side will face Schalke at 14:30 GMT. #mufc

— Manchester United (@ManUtd) January 6, 2014
Done Deals Today
It's been another quiet day in terms of done deals. Miles Addison has joined Rotherham on loan while Chelsea have confirmed Patrick Bamford's loan move to Derby County. Elsewhere in Europe, Borussia Monchengladbach have announced their goalkeeper Marc Andre- ter Stegen has declined the chance to renew his contract with the club, paving the way for the 21-year-old to join Barcelona this summer.