Manny Pacquiao Reaffirms Desire to Fight Floyd Mayweather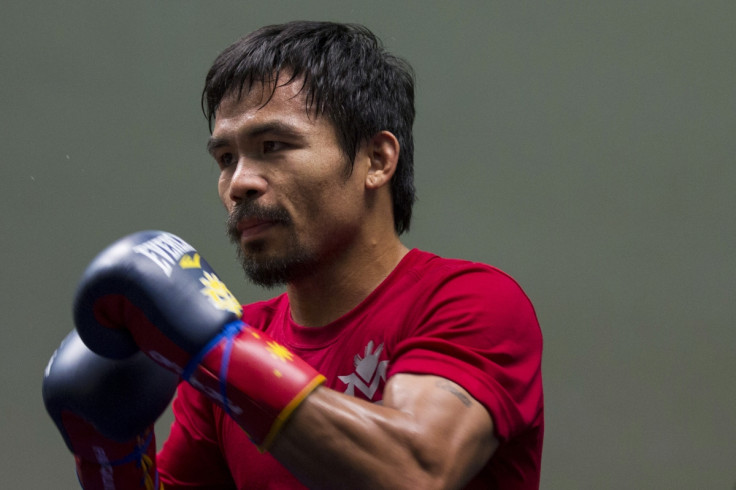 Manny Pacquiao remains open to fighting Floyd Mayweather amid reports a deal is close to being agreed to see the pair square-off in 2014.
The Filipino has begun promoting his long-awaited re-match against Tim Bradley but that hasn't stopped questions regarding a meeting with Mayweather, who himself is close to securing a fight in the Spring.
Reports have suggested the pair have agreed terms ahead of a meeting in September at the MGM Grand in Las Vegas but while Pacquiao has hinted that is not the case, he remains open to duelling with the unbeaten American.
"I want that fight but it's up to him," Pacquiao said. "What I can say now is that our line is open 24 hours, seven days a week. If he will call and say 'yes' then the fight [will happen].
"Thousands, millions of fans are waiting for that fight and been asking me many questions about when will that fight happen.
"I tell them I am willing to fight him any time but the problem is him. Many alibis. [Operators are] standing by 24 hours, seven days a week."
A fight with Pacquiao appears to be at the back of Mayweather's mind particularly after he asked fans to decide his next opponent between Marcos Maidana and Amir Khan.
Maidana is expected to win the vote after website Fight News' own vote saw the Argentine receive 79% of the vote.
Mayweather has taunted Pacquiao with the prospect of a money-spinning bout, and last month claimed the 35 year old was "desperate" for the fight to take place after being investigated for tax evasion.
"I offered Manny Pacquiao the fight before," Mayweather said. "We didn't see eye-to-eye on terms. Years later we come back and I try and make the fight happen again. I offer him $40 million. He said he wanted 50-50. So we didn't make the fight happen.
"All of a sudden, he loses to Timothy Bradley, he loses to Marquez ... he has tax problems now. So, two losses and tax problems later, now he all of a sudden wants to say: 'You know what? I'd do anything to make the fight happen,' when he's really saying: 'Floyd, can you help me solve my tax problems, get me out of debt?'"
© Copyright IBTimes 2023. All rights reserved.