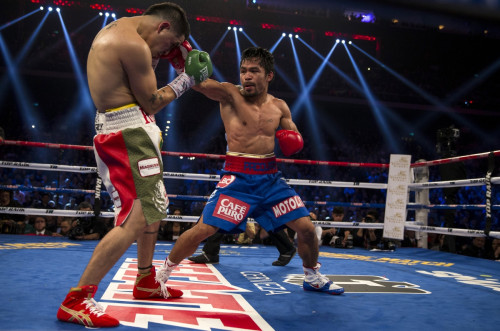 Whenever a high-profile boxing bout ends controversially between two top level fighters that outrages the public and leaves the impression of unfinished business, there is only one solution: a rematch.
When Manny Pacquiao and Timothy Bradley first met in June 2012 for a welterweight total fight, Bradley walked away with a win etched on his record but it was not without cost.
Although he won the fight with a hotly contested majority decision, it incensed the general public and sent Pacquiao's trainer Bob Arum, a former lawyer, to the Nevada attorney general.
Arum demanded an investigation and suggested that Bradley's victory had been a fix.
But an officer for Nevada's attorney general found no evidence to back the claim and the issue remained unresolved for the complainant.
According to Yahoo Sports journalist Kevin Iole, Pacquiao and Bradley will meet on12 April at the MGM Grand Garden Arena in Las Vegas in what should be a highly anticipated rematch between two fighters whose careers have seen in their ups and downs in the last couple of years.
Iole reported the deal for the rematch was finalised when Top Rank, Arum's promotion company, got Bradley to agree to conditions.
Pacquiao was knocked out by his nemesis Juan Manuel Marquez in December 2012 with a stunning punch in the sixth round. He did not fight for nearly a year and there were calls for him to retire after such a devastating defeat.
But he picked himself up and is coming off a November 23 demolition of Brandon Rios in China.
He looked sensational in the contest and administered a 12-round master class in offensive boxing that displayed not only his renowned power but also a newly added layer of defensive skills he has developed over the last few years.
Pacquiao used lateral movement, fluid combinations and head movement to keep Rios off balance and frustrated.
He demonstrated he is still a force to be reckoned with.
However, Bradley has also come back since his debacle against Pacquiao.
Bradley defeated Ruslan Provodnikov in March 2013 in the World Boxing Organisation welterweight championship.
Provodnikov is a powerful and durable offensive fighter who gave Bradley a concussion during the bout but Bradley somehow managed to finish.
He then took on and defeated Marquez.
In both bouts he revealed a level of maturity and intelligence which his critics would have not have expected after the first Pacquiao fight.
Bradley told Yahoo Sports that he and Pacquiao both needed a victory but for different reasons.
"There are still a lot of questions that need to be asked and answered. People wonder about me being the best and fighting the best," he said.
"Pacquiao needs to show he still has it by fighting and beating one of the best in the game. This is an opportunity to seal the deal in everyone's eyes for both of us.
"It's going to be a different fight because Rios and I are different kind of fighters," Bradley said.
"Rios is not a slouch. He's a big puncher, and I'm a lighter puncher than he is. Rios stung him a couple of times in there, but Manny didn't try to finish. He seemed a bit timid and didn't want to engage. Me, I'm a lighter puncher, and I think he'll feel he has the advantage as far as power and will try to take me out.
"I'm a different kind of a fighter. I've been in the ring with him already and I know him and he knows me. I'm going to have to prepare a game plan that will help me eliminate the mistakes I made and to take advantage of the ones he makes."