Maria Sharapova to face Eugenie Bouchard in Madrid grudge match after 'cheater' comments
Bouchard had recently labelled Sharapova as a cheater who should not have been allowed back.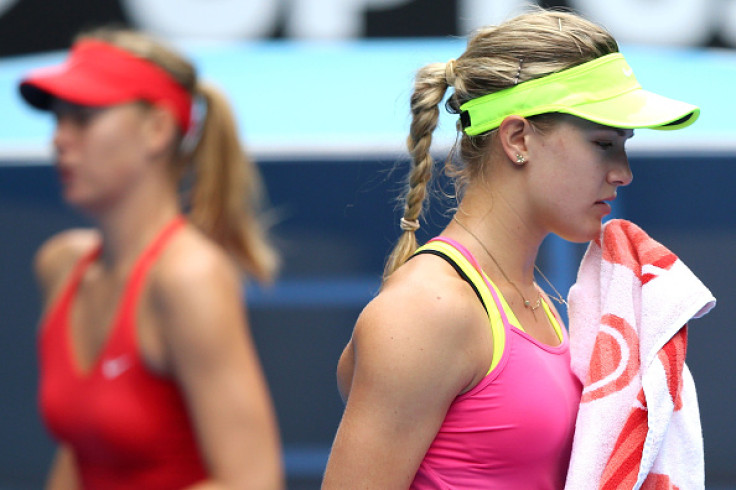 Maria Sharapova is set to face Eugenie Bouchard in a grudge match in the second round of the 2017 Mutua Madrid Open after a 4-6, 6-4, 6-0 win over Mirjana Lucic-Baroni.
Sharapova made her return from a 15-month drug ban at the Porsche Grand Prix in April after testing positive for meldonium at the 2016 Australian Open.
The former world number one was given a wild card for the event as well as the Madrid Open and the Italian Open, which sparked a divide in the tennis world.
Bouchard in particular, who looked up to Sharapova as a child, was not pleased that the Russian was allowed back into the sport, branding her a "cheater".
"She's a cheater and so to me, I don't think a cheater in any sport should be allowed to play that sport again," Bouchard said. "It's so unfair to all the other players who do it the right way and are true. So I just think the WTA sends the wrong message to young kids: you know, cheat and we'll welcome you back with open arms."
"So I don't think that's right. She's not someone I can say I look up to anymore because it's definitely ruined it for me a little bit."
Bouchard, who won her first WTA match since January after defeating Alizé Cornet in the first round, was hoping to play the 30-year-old in the second round of the event.
"I hope I can play Maria," she said, as quoted on TennisWorldUSA. "Inside myself I think I'll have a bit more motivation. But it's very important, once I step on the court, no matter who is on the other side, to focus on the tennis. Or else I think it's easy to lose concentration."
Sharapova was coy in her response to the Canadian's comments: "I don't have anything to say. I am way above that." She reiterated the same when asked about her remarks again ahead of their match.
"I already commented about those comments from her last week," she said, as quoted on TennisWorldUSA. "I'm sure the WTA would be happy to provide you a transcript of that."
The second round match will take place on 8 May and a win for Sharapova would put her in the qualifying phase for Wimbledon.
© Copyright IBTimes 2023. All rights reserved.