Alain tirelessly tracks every single public statement made on social network pages, videos, interviews or blog posts by the candidates of France's far-right Front National party (FN).
The 22-year-old student in political sociology at a Paris university has asked to remain anonymous because he is the founder of the L'Entente, an unsigned vigilante website that has been tracking and exposing FN candidates in the upcoming departmental elections in France.
The aim? To reveal the "real face of the FN" because while French people believe the party is racist, anti-Muslim and anti-Arab, they "underestimate all the violent remarks they can have vis-à-vis the Blacks, the Jews", Alain explains.
"We look at the face these candidates propose, we don't look behind. And what's very surprising is that even without looking behind the face of the FN, we still see comments advocating hatred and violence and calls to kill in numbers that are not anecdotal."
The founder of the platform said despite the fact these lines of thought have receded in the French society, "at the FN, that has stayed".
"We have candidates obsessed with the Jewish conspiracy, who believe black people are 2000 years behind, who compare Christiane Taubira (a black minister) to a monkey," he told IBTimes UK. "And the fact this is all on public profile pages of those candidates, for instance, is bewildening.
"It's easy to say what has shocked us: some candidates say 'death to the Jews', some say 'death to the Arabs', some rejoice at the death of Roma gypsies – it's not really subtle."
Alain, and a small team of anonymous people, have around 5,000 screen grabs on hand, read thousands of books written by FN party members, watched thousands of videos and listened to as many interviews given to the press or during party rallies across the country.
While Alain says "after a while, we somewhat get used to the abject comments", he describes an FN candidate in the Southern Aveyron Alex Larionov's call to massacre Jews as the most shocking finding so far.
"On a public social network page of another candidate, we found similar comments. What's interesting that this was not an isolated comment, but that there was a repetition."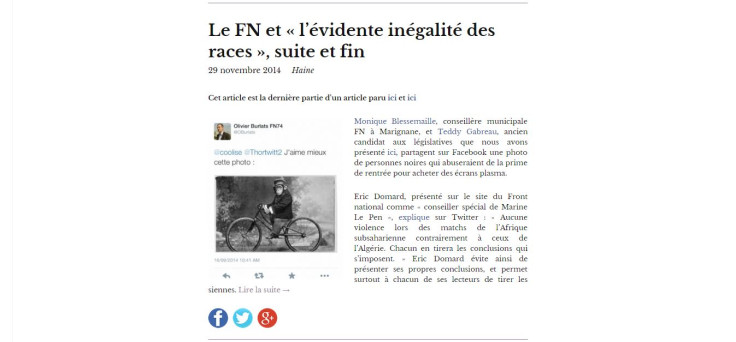 Le Pen's close circle 'not necessarily less radical'
This comes despite efforts from the party leader Marine Le Pen's efforts to "clean up her close circle" in the 2000s. In January, the far-right party was thrown into chaos by a video, which equated Islam to Nazism.
Aymeric Chauprade, an MEP in Brussels and international affairs adviser in Le Pen's party drew parallels between Islam and the rise of Hitler in the 1930s, saying: "We are told that a majority of Muslims are peaceful, certainly, but a majority of Germans was before 1933 and German National Socialism."
In another more recent incident, the national federations secretary of the FN, Nathalie Pigeot, who is also a candidate to the October elections, is accused of being a fan of Hitler.
Pigeot file a lawsuit for defamation on 12 March after Le Republicain Lorrain revealed former members of the FN accused the national federations Secretary of worshipping Nazi Germany.
The report, which was backed by Charlie Hebdo, revealed several former FN militants had indeed written to the party leadership to denounce her love of the Third Reich.
One of them, former departmental secretary of the FN for Moselle, Bernard Brion, who has just left Marine Le Pen's party, swears he saw with his own eyes the attraction moved somewhat to the Third Reich.
He said: "Yes, I saw crockery with the SS logo at her house, and a frame with a picture of Hitler."
The secretary, who denies the allegations, has claimed the accusers are looking for "vengeance".
"People usually say that Marine Le Pen has made an effort to clean up the leaders of the FN in the 2000s (...) but the close entourage of Marine Le Pen is not necessarily less radical," Alain explains.
Gaining interest from other parties
The nameless vigilante group has taken steps towards getting in touch with French parties on the political spectrum, but until three weeks ago, it had gone unnoticed.
"I imagine our young profile, and the fact that we have decided not to sign or give our identities on our website to mark the project, may have slowed down their interest at first," Alain reckons.
However, the young man confirms he and his team have met with "a number of members of parties including some leaders" to discuss L'Entente's ideas.
He says: "Different politicians have had very diverse reactions: some were hopeless when facing the FN while others were, fortunately, enthusiast and curious."
The team insists it will remain "neutral" and will not accept to "work with one party or another".
He says: "Parties have proposed that we circulate our information, which is not a problem as everything is already out in the public sphere."
L'Entente is hoping to publish a book in September, ahead of the country's October regional elections "not present an analysis, but purely to review what has been said - an anthology".