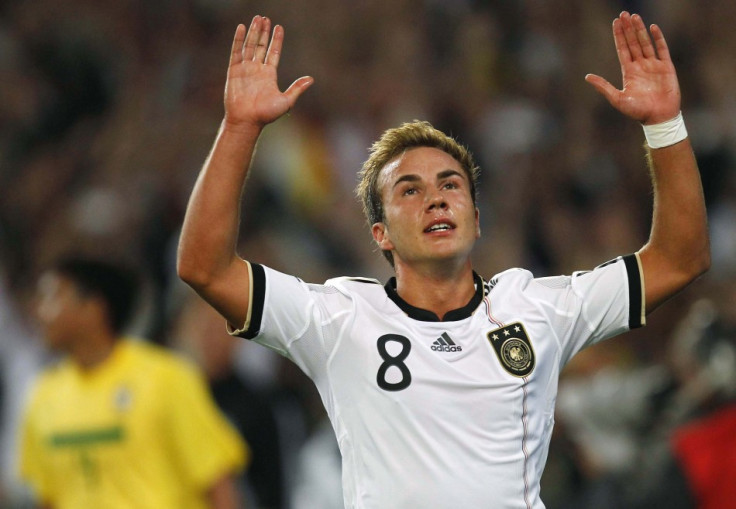 Reputed Arsenal and Manchester United target Mario Götze has been ruled out for a month with a thigh injury.
The German wonderkid has been perpetually linked with a move to the Premier League amid rumoured interest from Arsenal boss Arsene Wenger and his Premier League counterpart Sir Alex Ferguson of Manchester United.
Last month the IBTimes confirmed a move to either Arsenal or Manchester United was incredibly unlikely because of the 19-year-old's desire to focus on next summer's European Championships. A source close to the Borussia Dortmund star suggested the upheaval of a potential move to the Emirates, Old Trafford, or indeed to any of his apparently numerous admirers would be unsettling ahead of Germany's preparations for the tournament in the Poland and the Ukraine.
Despite the apparent denial of an imminent transfer to Arsenal or their rivals Manchester United, the two Premier League giants continue to be credited as strong admirers for the sensation widely deemed one of the finest young players in world football.
Regardless of the tenuous link to Arsenal and Manchester United, who both have perceived weaknesses in the creative departments of their respective midfields, following the departures of Samir Nasri and Cesc Fabregas and the retirement of Paul Scholes, a transfer away from Borussia Dortmund would appear even less likely now that the youngster is injured.
According to The Sun newspaper Götze tore a muscle during Dortmund's 1-1 draw with Kaiserslautern in the Bundesliga on Sunday, and the injury has subsequently hampered the likelihood of Arsenal or Manchester United formally registering their interest in the attacking midfielder.
Arsenal have maintained a long term interest in the prodigiously gifted midfielder who last season was the catalyst to Dortmund's first league title in a decade. Arsene Wenger has been perennially associated with a lucrative raid for the pint-sized star, with the Gunners regularly tipped to make a club record bid in the region of £30 million for the player next month. Likewise Manchester United's interest is well documented even though both Sir Alex Ferguson and Arsene Wenger look almost certain to miss out on the player, given his reluctance to leave and his club's desire to retain their star asset.
Interest in Götze was fuelled recently when the German international was named the 'Golden Boy' of European football. The award is voted for by Italian publication Tuttosport and the youngster pipped Arsenal's Jack Wilshere and Manchester United's Phil Jones to the coveted gong.