Chelsea and Manchester United scouts are interested in signing Genoa defender Mario Sampirisi, according to the player's agent Giuseppe Riso.
The 19 year old has played at under-19 and under-20 level for his country Italy and made his professional debut for Genoa in the defeat to Palermo last season.
Sampirisi has started seven of Genoa's nine Serie A league games, a campaign which has so far yielded two wins, and such has been the impressive nature of his performances that Premier League giants Chelsea and United are both interested in his services.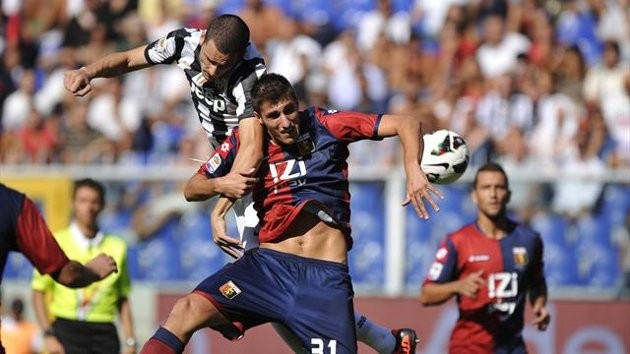 "Chelsea and Manchester United interested in him? Yeah, they sent their scouts to follow him live but I don't know if they'll try to take him in January," Riso told tuttomercatoweb.
"Genoa do not want to sell. But I am not surprised that the Premier League clubs have their eye on him. Mario has the typical physique that British teams like. But also some Italian clubs are following him."
Given Genoa's reputation for parting with their finest players in their infancy, with the likes of Diego Milito and Thiago Motta having both left the club early in their career the departure of Sampirisi wouldn't be a surprise.
While both Chelsea and United may have half an eye on January and next summer's transfer window, the fallout from the pair's Premier League meeting could have a significant implications for referee Mark Clattenburg.
The 37 year old is alleged to have used insulting words of a racial nature reportedly towards John Obi Mikel during the 3-2 defeat at Stamford Bridge, sparking an enquiry from The Football Association.
The account of Mikel and teammate Juan Mata will be used as evidence against Clattenburg while assistants Michael McDonough and Simon Long and fourth official Michael Jones who will have heard conversations during the game through an ear piece will also be questioned.
The allegations have compounded a difficult performance from Clattenburg, who controversially dismissed Fernando Torres, and has been subsequently withdrawn from this weekend's Premier League fixtures.
Chelsea and United face each other in the League Cup fourth round on Wednesday evening; the second meeting between the sides in four days.