BBA's Simon Hills: Mark Carney Should Stop BoE's Gilt Purchases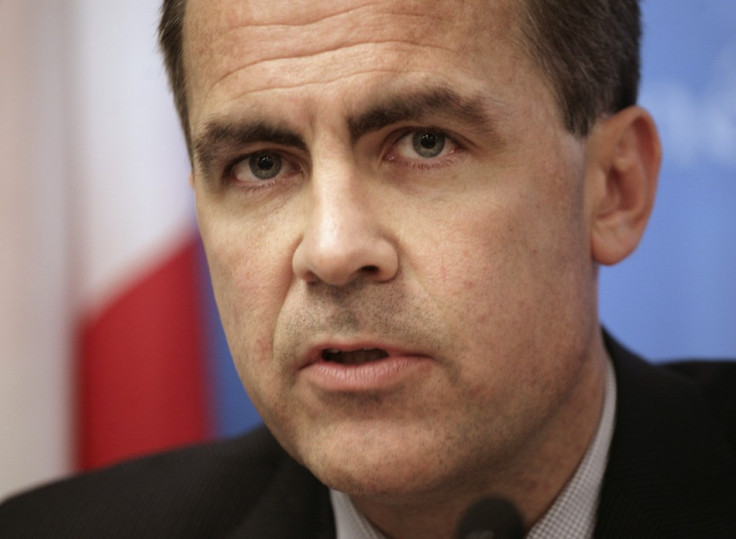 Mark Carney is set to take over in July as governor of the Bank of England, which is trying to steer the UK economy through one of its most challenging and uncertain times.
At a debate held by the Association of Chartered Certified Accountants (ACCA) on the challenges Carney faces in his new role, IBTimes UK caught up with Simon Hills, executive director of prudential capital and risk at the British Bankers' Association, to get his view on the state of the economy and what needs to be done.
Q: What makes you so sure that it's confidence on the demand side for borrowing that's restricting bank lending and not, as some have it, the banks simply hoarding the cash?
A: I think it's six of one and half a dozen of the other.
If I was a small business person I would not want to be borrowing money to invest in new plant, equipment and people until I was quite sure that I could make a proper return on it. That is reflected in the fact that SMEs have about £125bn of cash sitting on their collective balance sheets
It just doesn't seem to me that people are confident enough in the economic outlook to believe that they will make enough of a return on the capital they borrow to invest.
The SME finance monitor survey shows that only 40% of SMEs are using external finance right now and that a third of SMEs haven't borrowed at all over the past five years, Looking back over the past 12 months 73% of SMEs - that's 3.3 million SMEs in the UK are what the survey calls 'happy non-seekers' that haven't applied for finance over the past 12 months.
But 7% of SMEs are would-be seekers that would have liked to borrow but something has stopped them. Digging a bit deeper in to that number we can see that the majority don't apply for a loan because their perception is that the bank would say no. As I said that is not the banks' mind set - they want to lend to viable business and to make the application process as easy as possible.
I think many small business people don't understand that they need a business plan with a forward projection of cash flow to demonstrate that they are going to be able to repay the loan. If they can't that doesn't do any favours to the bank and that certainly doesn't do any favours to the small business owner either.
So our task is to convert that 7% of would be seekers in happy seekers by helping business owners bring us that business plan by providing them with the tools to do so. And our network of business mentors is one way we are doing that.
Q: How do you think banks can help restore confidence?
A: I am sure that banks are doing all they can to help small businesses access bank lending in these difficult economic times. Interest rates on offer are some of the lowest on record and approval rates for SME lending applications are over 80%, with £6bn of new lending per quarter.
Banks are working hard to restore confidence through initiatives such as building a UK-wide network of business mentors, as I've just mentioned, offering an independently-monitored appeals process for businesses whose borrowing applications have been turned down and working with alternative finance providers to provide access to different products. And we are running out reach events that put local business people in touch with their local business lenders and that seems to be working.
Q: Do you think the Bank of England has sufficient policy in place to support the flow of credit, such as Funding for Lending, or would you like to see more?
A: I think the change to Funding for Lending which now very much focuses on SMEs is great news.
There's much more benefit - a multiplier, if you like - under the changes to the Funding for Lending Scheme which will incentivise banks to lend to SMEs and I hope we'll see that flow through over the next few months in the SME finance monitor survey results, recognising though that this is not a tap that you can just turn on and off - it will take a few months to build up to meaningful volumes.
Q: Do you think that assets other than gilts should be bought under the current QE programme?
A: Yes, very much so. Buying what some would call real economy assets rather than government bonds would provide a significant fillip to the economy in general.
I would support asset-backed securities backed not just by mortgages but by SME loans, by corporate receivables too - I think we need to look creatively at bringing finance to SMEs and good quality, well-structured securitisations would be one way of doing this.
And if we built up an SME backed securitisation market that would help banks manage their balance sheet too by shifting those riskier, therefore more capital intensive SME assets, off the balance sheet and onto longer-term holders like insurance companies who need those sort of assets to match their longer term liabilities.
Q: You'd welcome it - but do you think it's going to happen?
A: We'll have to see.
Q: With QE as well, when it comes to unwinding, how do you think Mark Carney should communicate what's going to happen? How much notice do you think he should give?
A: I think transparency is all. I think the decision to extend the Funding for Lending Scheme by another year is a good one, because there is no doubt that there could be a financing cliff that could be fallen off, though hopefully there won't be, when the Funding for Lending Scheme comes to an end.
I think that it's important that central bankers are transparent about how they see funding activities changing, how they see capital requirements for banks developing, so that people have a more predictable medium-term view of what the background to the economy's going to look like.
Q: It has been said that bankers are counting down the days, hours, minutes until Mervyn King leaves. Is that something you identify with?
A: No, I don't identify with that. We want a smooth transition to a new governor and if that new governor takes a broader view of what the economy needs then I think that would be a good thing, although of course he must retain his independence - he shouldn't be influence by politicians and their whims.
© Copyright IBTimes 2023. All rights reserved.