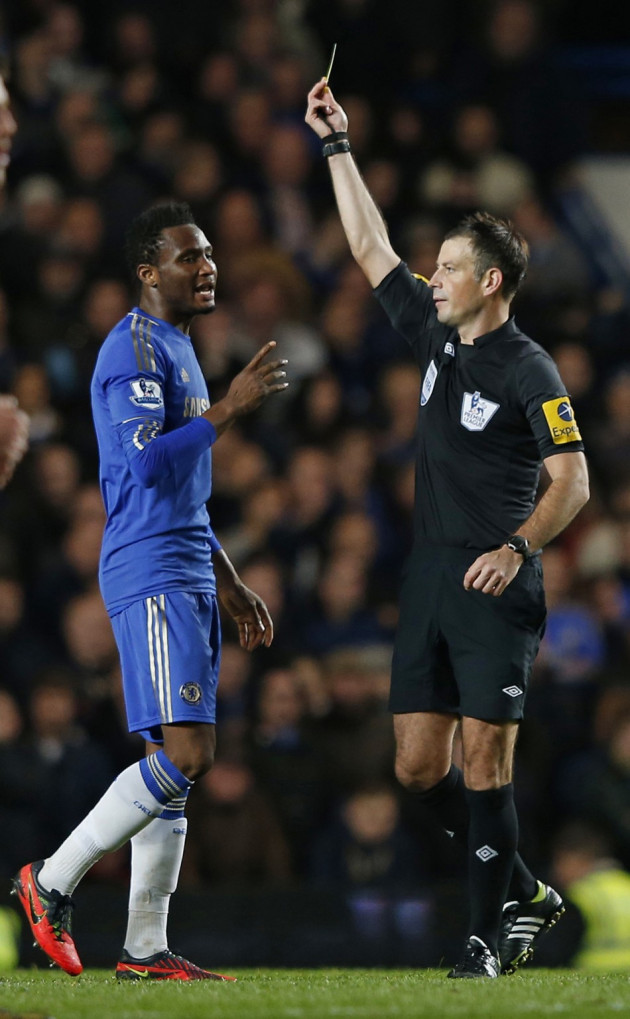 Referee Mark Clattenburg will formally deny allegations that he called Chelsea player John Obi Mikel "a monkey" and teammate Juan Mata a "Spanish t**t" during the club's game against Manchester United on Sunday.
Metropolitan Police have launched an investigation into allegations that Clattenburg used "inappropriate language" during Chelsea's 3-2 defeat to United.
The Football Association has also launched its own formal inquiry into the accusations - the latest in a series of race rows to have engulfed English football over the past 12 months.
However a source close to Clattenburg revealed that the 37-year-old referee categorically rejects the allegations, telling The Sun: "He said nothing of the sort - and he will fight this all the way."
It is believed that neither Mikel nor Mata heard the alleged remarks directly, but the remarks were passed on to them via their teammates.
The Sun's source continued: "There is a lot of noise on the pitch and the players could have easily misheard."
Police brought forward the investigation after a complaint from Peter Herbert, chairman of the Society of Black Lawyers, who has since defended his decision to contact the authorities based on reports rather than first-hand evidence.
Herbert told Sky News: "What we don't want is for it to be swept away under the carpet. It must be subject to a full and proper investigation.
"It [the investigation] is to lend some seriousness and some weight behind what is happening in football."
Chelsea are understood to have brought in an external legal team to conduct their own investigation into the allegations against Clattenburg.
A statement from Met Police said: "An investigation has been launched into alleged comments made during a football match between Chelsea FC and Manchester United FC at Stamford Bridge on 28 October 2012.
"This follows on from a complaint received by the Metropolitan police service on 29 October. Officers from Hammersmith & Fulham borough are in liaison with Chelsea football club and the Football Association.
"At this time, the Met has not received any complaint from either Chelsea football club, or the Football Association. We continue to work in partnership with Chelsea football club and the Football Association in order to consider any allegation that is made in relation to the reported events."
Chelsea are due to play Manchester United again in a Capital One Cup quarter-final tie at Stamford Bridge this evening.