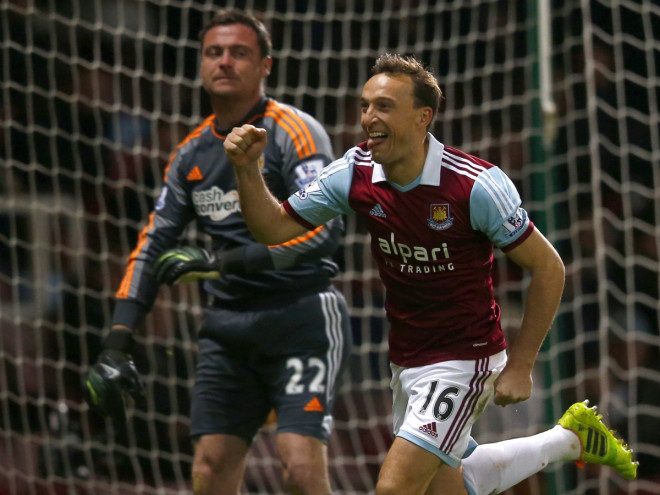 West Ham United midfielder Mark Noble has urged supporters to get behind their team after they were booed off the field following their 2-1 win over Hull City.
The Hammers put an end to a run of three straight defeats with Tuesday's victory over Steve Bruce's side but were rather fortunate to escape with three points after what was a particularly flat performance.
Hull goalkeeper Allan McGregor was sent off for challenge of Mohamed Diame despite the midfielder appearing to handle the ball in the build-up. Noble stepped up to convert the penalty for the home side who secured the win thanks an own goal through James Chester, after Nikica Jelavic levelled the visitors.
Boos rang out around Upton Park following the final whistle much to the disbelief of manager Sam Allardyce, who could not understand such a negative response after a win that lifted the club to 11th.
West Ham's points tally of 34 point suggest they will not be sucked into a relegation battle in the final months of the season but 26-year-old Noble wants the club to present a united front.
"I appreciate that we did not play our best football and that, at times, it wasn't pretty," Noble said.
"More than anyone, I am keen to get the ball down and play, but sometimes it just doesn't happen for you as a team and as individuals, no matter how hard you try.
"Although it wasn't our best performance, we did not fall short on effort and that has been a consistent theme during our recent upturn in form. On behalf of all the players, I can say that your support really can make a difference.
"We will always perform better when we are feeling relaxed and comfortable – as you would in any job – and I must admit the anxiety from the stands can spill onto the pitch and get into our minds, as much as we try to ignore it.
"When that happens, some players can be affected and they make mistakes that they would not normally make. I think you could see that in our performance last night as we made mistakes we would not normally make and didn't retain the ball as well as we have done in previous games.
"For that reason, I would ask that you give your backing to the boys because I can tell you that we are giving 100 per cent for the shirt and 100 per cent for West Ham United.
After a miserable period towards the end of 2013 and early 2014, West Ham pulled themselves out of the relegation zone after a run of four straight wins in February, a feat that won Allardyce the Premier League's manager of the month.