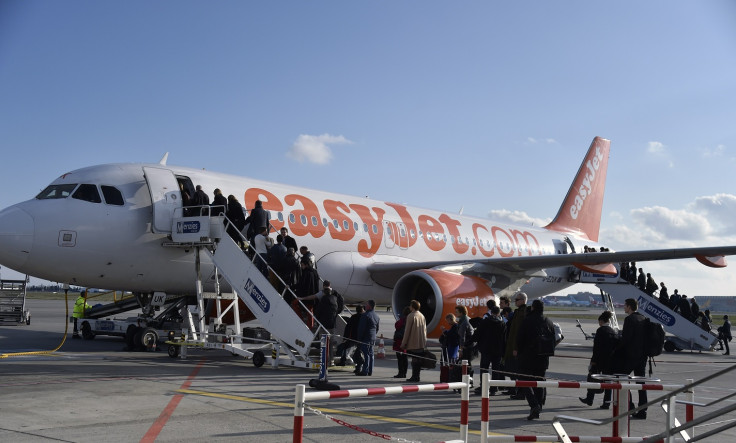 EasyJet shares plummeted almost 10% on the FTSE 100 after the airline predicted it would suffer a downturn following the Germanwings disaster and the French air strike. Overall the index closed down by 96.05 points (-1.37%) at 6,933.80.
Shares in the the budget carrier were down by as much as 10% in intra-day trading before closing down a whopping 9.77% at 1,654.00.
The operator had earlier reported a slim £7m profit in the six months to 31 March but it predicted disruption caused by the strike, which grounded 600 flights, would wipe £25m off its pre-tax profits.
The FTSE 100 was also weighed down by fears Greece could default on its obligations after reports the International Monetary Fund would not bail out the ailing nation for a third time.
Investors were also weighing up a possible "Brexit" after David Cameron suggested an in/out referendum on EU membership could come as early as 2016.
FTSE 100 biggest risers
Experian +37.00 (+3.14%) 1,214.00
Fresnillo +12.00 (+1.71%) 713.50
Antofagasta Holdings +9.00 (+1.15%) 791.50
Randgold Resources +40.00 (+0.85%) 4,741.00
Lloyds Banking Group +0.42 (+0.48%) 87.02

FTSE 100 biggest fallers

EasyJet -179.00 (-9.77%) 1,654.00
Kingfisher -13.10 (-3.53%) 357.50
Aberdeen Asset Management -15.50 (-3.44%) 434.50
Hargreaves Lansdown -37.00 (-3.00%) 1,198.00
Ashtead Group -38.00 (-3.23%) 1,139.00
AIM 100 biggest risers
Camellia +447.50 (+4.76%) 9,847.50
Restore +10.00 (+3.77%) 275.00
Sirius Minerals +0.50 (+3.64%) 14.25
Young & Co's Brewery +34.50 (+3.30%) 1,080.00
Gooch & Housego +22.50 (+3.06%) 757.50

AIM 100 biggest fallers
Greenko Group -7.00 (-10.00%) 63.00
Sprue Aegis -25.00 (-8.33%) 275.00
Amerisur Resources -1.50 (-4.44%) 32.25
Globo -2.38 (-4.18%) 54.50
Dolphin Capital Investors -1.00 (-4.17%) 23.00