As the Chinese smartphone market contracts for first time in six years, Samsung has seen over 50% of its market share wiped out in the space of a year while Apple has taken top spot from homegrown company Xiaomi.
China has until now been seen as one of the most important smartphone markets in the world due to its size and the fact that it was much less developed that the likes of the US, UK and Japan, but that is all about to change.
Figures revealed by research company IDC suggest that shipments of smartphones in the first three months of 2015 are down 4% compared to the same period in 2014.
With 98.8 million units shipped, the Chinese smartphone market is still a hugely important one but as Kitty Fok from IDC China points out, it is now time to stop thinking of the country as an emerging market for smartphones:
"China is oftentimes thought of as an emerging market but the reality is that the vast majority of phones sold in China today are smartphones, similar to other mature markets like the US, UK, Australia, and Japan. Just like these markets, convincing existing users as well as feature phone users to upgrade to new smartphones will now be the key to further growth in the China market."
Winners and losers
Apple was the big winner in the first quarter of 2015 in China with sales of the iPhone 6 and iPhone 6 Plus helping to make it the biggest manufacturer - which is unsurprising as the company revealed last month that it had sold an incredible 61.2 million iPhones during the quarter.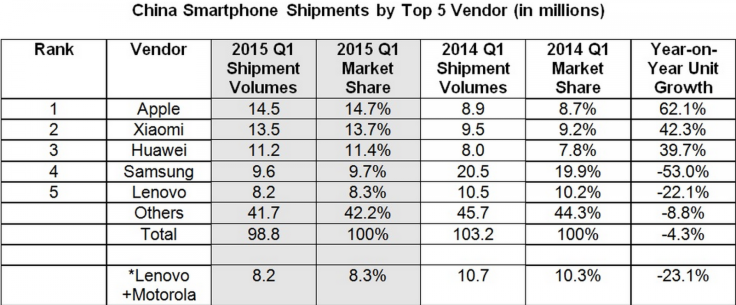 The other notable aspect of these latest figures is the continuing struggle Samsung faces in China. In the first three months of 2014, Samsung shipped over 20 million smartphones in China, giving it a 20% share of the market, double its closest rival at the time Lenovo.
In the three months to the end of March 2015 however, the company sold less than half that number of smartphones (9.6 million) seeing its market share slip to just 9.7% which now makes it the fourth biggest smartphone maker in China.
Samsung will be hoping that the launch of the Galaxy S6 and Galaxy S6 Edge in China at the beginning of April will help reinvigorate interest in the company's smartphones. However, as well as competition from established players like Apple, Huawei and Lenovo, Samsung is facing competition from dozens of small and innovative Chinese startups - such as OnePlus, Meizu and Oppo - who are all hoping to repeat the success Xiaomi has experienced in the last two years.
Even established companies like Huawei and ZTE are looking to grab a slice of the market currently dominated by Xiaomi by creating younger sub-brands - Honor and nubia respectively - "to chip away at Xiaomi's user base, and to attempt to gain a loyal fanbase".
Lenovo is also looking to re-position itself with first the Motorola acquisition and second its upcoming online-focused Shenqi division.
Xiaomi in decline?
Apple overtook Xiaomi as the top manufacturer in China with the Chinese startup having dominated sales in its home territory in 2014.
The reason for Xiaomi's decline according to IDC is "strong competition from other vendors in the low to mid-range segment of the market" - an area where Xiaomi had seen huge growth in the last couple of years.
Xiaomi has begun 2015 by focusing on India, launching the Mi 4i in New Delhi last month and with the Chinese market becoming saturated, this is something more and more companies will be doing this year, according to IDC.
However repeating their success in other countries won't be that straightforward, and it will require smartphone companies like Xiaomi, Lenovo and Huawei to strike up relationships with local networks and retailers in countries like India, Indonesia and Hong Kong:
"To successfully combat local players overseas, Chinese vendors will need to focus on channel relationships and localised marketing strategies," said Tay Xiaohan, an analyst with IDC. "Most of the market's growth will come from sub-US$150 phones as feature phone users switch to low-cost smartphones."