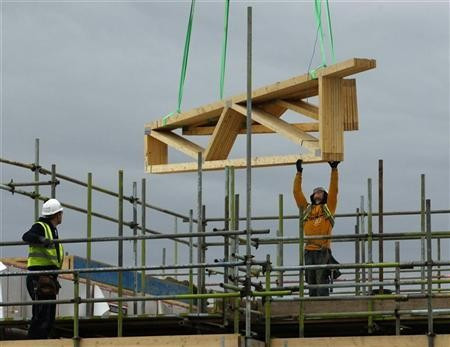 Private firms in the UK's construction sector saw their volume of new orders decline for the fifth consecutive month in October, according to a survey which shows that the industry's troubles are far from over.
Staffing in the sector fell at its fastest rate since August 2011 and input costs rose, notably energy and fuel prices.
The purchasing managers index (PMI) for construction rose slightly to 50.9 on the previous month's 49.5. A figure over 50 represents growth, while anything under represents contraction.
"Despite marginal growth in October, the prospects for the construction sector are bleak as firms prepare for the worst," says David Noble, chief executive at the Chartered Institute of Purchasing & Supply (CIPS), which conducted the research with Markit.
"They are heading into a long, dark winter, by shedding jobs and laying off subcontractors in response to the longest decline in new business since the start of the financial crisis in 2008/2009. There is contagion right along the supply chain with rising fuel and energy costs and lengthening delivery times ensuring there is little hope of respite in the immediate future. All of this compounds the imminent threat of budget cuts in 2013," he adds.
Since the last quarter of 2011, official data shows that construction sector output has fallen by 10.9 percent as the industry struggles amid public sector austerity and a squeeze on project finance.
The government has stepped up its efforts to stimulate growth in the sector, which is largely blamed for dragging Britain into a double-dip recession.
Number 10 has launched a review of planning laws in the hope that cutting red tape will kick-start construction work.
It also has the UK Guarantees Scheme, which will see major infrastructure projects that cannot find finance from the private market underwritten by the taxpayer.
Treasury officials say as much as £40bn of ready-to-start projects are eligible.
---
Follow @shanecroucher