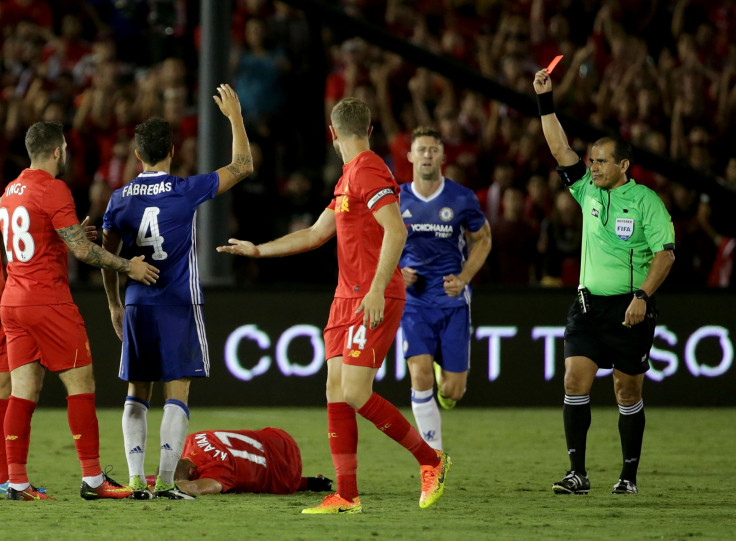 Liverpool youngster Marko Grujic was taken to hospital after a clash of heads with Chelsea forward Bertrand Traore in a bad-tempered friendly between the two Premier League sides in the United States.
Cesc Fabregas was also sent off after receiving a straight red card for a poor challenge on Liverpool's Ragnar Klavan, with Blues manager Antonio Conte apologising for the challenge after the bruising encounter at the Rose Bowl in California.
Grujic and Traore both went up for an aerial challenge which resulted in the young Serbian being led away by medical staff unable to "remember anything", according to Reds' boss Jurgen Klopp.
"In general the biggest problem for me is that Marko Grujic is in hospital," Klopp told a post-match press conference, the Liverpool Echo report. "He can't remember anything. That is not too cool for a young boy in this situation. Injuries happen in pre-season. It can happen. It is unlucky but it is not good for us."
Fabregas meanwhile was shown a straight red for his raised challenge and while Conte was apologetic, he insisted there was no malice from his player.
"I think that the fatigue sometimes can bring a [player] to go too late," the Italian said. "I know Fabregas is a good man, a good boy and it is not a player to have this type of situation. I am sorry for him, I am sorry for the Liverpool player."
Chelsea sealed victory over their domestic rivals thanks to a Gary Cahill header after just 10 minutes in the International Champions Cup trophy. The Blues take on Real Madrid (30 June), AC Milan (3 August) and Werder Bremen (7 August) before beginning their Premier League campaign against West Ham United.
Liverpool also meet fallen Serie A giants Milan (21 August) before games against Roma (2 August) and Barcelona (6 August). They start their campaign against last season's runners-up Arsenal.