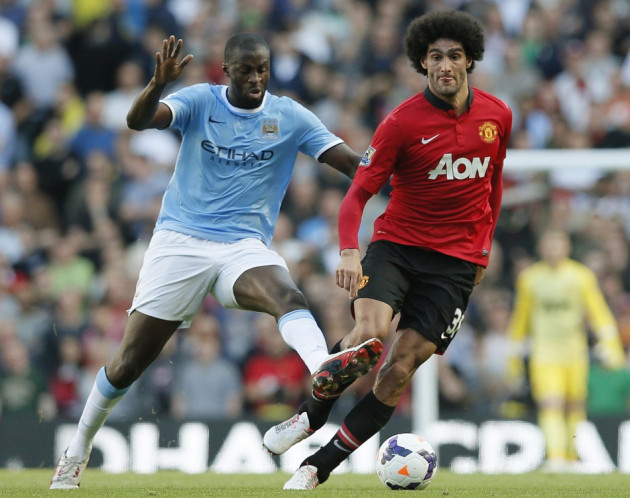 Manchester United midfielder Marouane Fellaini will undergo wrist surgery and is likely to miss much of the club's busy festive period.
The Belgian international suffered the injury during the Champions League group draw with Shakhtar Donetsk and missed the Premier League win over Sunderland last weekend.
Fellaini is set to feature for Belgium in their World Cup qualifier against Croatia on Friday after having the injury assessed by medical staff, however, he will spend a lengthy period on the sidelines either side of the New Year.
"In accordance with the [Manchester United] club doctor, Marouane Fellaini will have surgery in December-January, unless he is ruled out from playing beforehand anyway due to a suspension," Belgium team doctor Kris Van Crombrugge said.
"After surgery we believe he will only need one or a maximum of two weeks to recover. After that he can resume playing by using a brace. The surgery is not urgent, hence the delay.
"Last weekend he could not play for Manchester United because he had too much pain but because he is now taped he can play."
The 25 year old joined United on deadline day but after making just a handful of appearances for the Premier League champions is already contemplating a spell out with injury.
United could play as many as 17 games in just over eight weeks across December and January and while the delay to surgery means Fellaini can feature in the club's autumn schedule, they will be without the former Everton midfielder for the busiest part of the season.
Fellaini could miss at least two weeks of action. The scenario which would limit his absence would see him feature in the climax to United's Champions League group campaign against Shakhtar on 10 December and break for surgery - missing just three subsequent matches - before returning for the Boxing Day visit of West Ham United. However, United could opt for an earlier or later surgery date.
The news that Fellaini requires surgery comes a major blow to David Moyes, who has come under criticism for failing to land many of the club's transfer targets during the summer window.
The United midfield has been regularly accused of lacking offensive and defensive balance in equal measure and the loss of Fellaini will only work to further disrupt what has been a troubled first season for Moyes.